What I'm Thankful for This Thanksgiving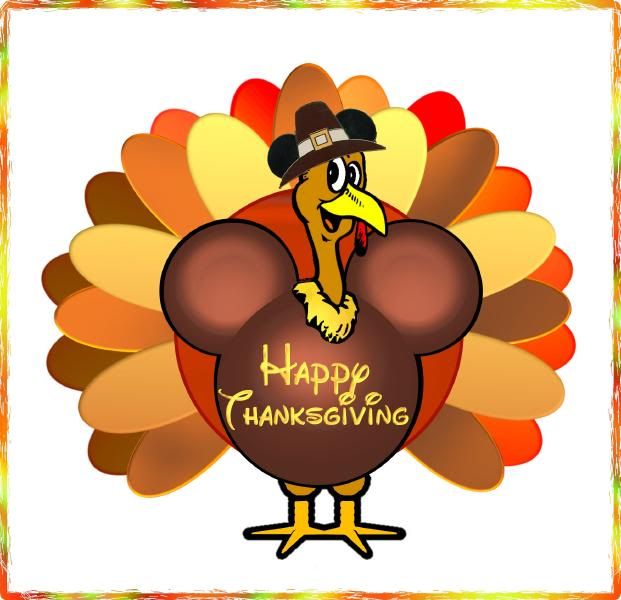 In honor of the day of Thanksgiving I want to share a little about what I'm thankful for. I'll stick to what Disney things I'm thankful for as there are way too many other things to mention.
I'm thankful to you, my readers. You encourage me to write just by looking at my blog. This encourages me to think about happy times at Disney Parks. It pushes me to express and grow in my ability to share my thoughts. This has spilled over into now writing books and publishing them. First a collection of short Christmas stories and now I'm working on several more books. My creative spark has been rekindled thanks to you.
I'm thankful to Walt Disney. One man's dreams turned into the happy dreams for millions of people, including me and my family. Without his creative drive and spirit the movies and parks would not have existed.
I'm thankful to the many wonderful, friendly Cast Members who go out of their way in doing their jobs to make sure we, the guests are safe, happy, go away with our dreams fulfilled and memories that last a lifetime. I especially think of some of the hardest working Cast Members, the janitorial staff. 60,000-90,000 people in the park and they manage to keep the restrooms usable over 90% of the time, totally amazing to me. And they do it with a smile!!
I'm thankful for the many wonderful things that have happened during our visits to Disneyland. I'm thankful for visits helping my husband and I to realize/admit our love for each other 32 years ago. I realize how blessed I am to live near enough to Disneyland that my husband and I can go often and remind ourselves of where, how and why we fell in love. I'm grateful for the help visits gave rebuilding my husband's memories after an accident took many of them away. I'm appreciative of the family time with my step-dad that turned him into my daddy and gave us extra years together because the Park gave daddy a happy place to go and encouraged him to get out of bed and live instead of giving up when he, and his body wanted too.
I'm thankful in the sad moments of life to have happy memories of times with family and friends at the Happiest Place on Earth. Those happy memories give me strength to get through the hard times and encourage me to move on and look forward to the next visit.
So what are you thankful for?
My Christmas book, An Angel Remembers 25 Voices of Christmas is out!!
You can find for all formats at
http://www.smashwords.com/books/view/94784
http://www.barnesandnoble.com
It is also available at the ITunes store for IPod, IPad and IPhone
It soon will be up at other sites such as Amazon