Meet Disney Princess Paige O'Hara
The Fifth Disney Princess
May 10th, 1956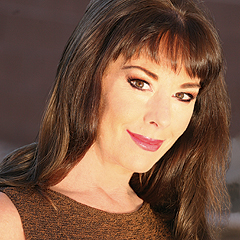 O'Hara was born Donna Paige Helmintoller in Ft. Lauderdale, Florida and attended Nova High School in Davie, Florida. She performed in shows with the Fort Lauderdale Children's Theatre.
O'Hara now lives in Las Vegas, Nevada, with husband Michael Piontek.
As the singing and speaking voice of the animated heroine Belle in Beauty and the Beast (1991), Paige O'Hara added a Disney classic to a career that has spanned Broadway, opera and concert stages, and the recording studio.
"I had been a Disney fanatic from the time I was little," Paige once said. "As soon as I heard about the project, I called my agent and said, 'I have to be seen for this.' I ended up auditioning five times for Belle, but from the very beginning I felt very confident, because I knew this was my part. It was just one of those things you know." Paige reprised the role of Belle in the popular sequels Beauty and the Beast: The Enchanted Christmas (1997) and Belle's Magical World (1998), and the unprecedented success of Beauty and the Beast has earned her a multitude of fans of all ages all around the world.
A veteran of the New York stage, Paige made her Broadway debut in the 1983 revival of
Showboat
. She was also featured in the Houston Grand Opera's 1989 production, which allowed her to make her international debut when the production was selected to open the Cairo Opera House in Egypt.
Paige co-starred as Ado Annie (the "girl who can't say no") in a national tour of the Rodgers and Hammerstein classic
Oklahoma!
(1979) directed by William Hammerstein. She went on to perform the title role in the original musical comedy
The Mystery of Edwin Drood
(1985), both on Broadway and in the national tour, and co-starred in Gershwin's
Of Thee I Sing/Let 'Em Eat Cake
, conducted by Michael Tilson Thomas. In 1995, she starred as Fantine in the award-winning
Les Miserables
on Broadway, mesmerizing audiences with her heart-wrenching rendition of the song "I Dreamed a Dream."
With demand for her services growing around the world, Paige toured Japan with the Hollywood Bowl Orchestra, and in London starred as Venus in the BBC's broadcast of Kurt Weill's
One Touch of Venus
(1995). She is a featured vocalist on the recording of Mack and Mabel in Concert, also recorded live in London, and starred as Nellie Forbush in the Australian production of
South Pacific
(1996). As a concert soloist, she has appeared at the Hollywood Bowl, the Boston Pops, the Turin Opera House in Turin, Italy, and with orchestras across the United States.
On film, sharp-eyed moviegoers spotted her in a cameo role, playing a television soap opera star in Disney's 2007 live-action/animated fantasy
Enchanted
.
She now lives in Las Vegas, where she and her husband appeared in The Great Radio City Music Hall Spectacular with the Radio City Rockettes and where she can be seen in the smash hit
Menopause: The Musical,
now playing at the Luxor.
"I love Belle," Paige once said. "I love the fact that she is a revolutionary kind of heroine. She's very smart and odd and is looking for adventure -- not a husband. She was a first, in a lot of ways, for a Disney Princess and was ahead of her time in the film and for Disney. I think that's why, almost 20 years later, people still love her."
http://disney.go.com/disneyinsider/history/legends