Meet the voice of Disney's Sixth Princess

Jasmine
Linda Larkin
(Mach 20th, 1970)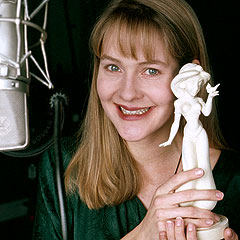 Linda Larkin
(born March 20, 1970) is an American cinema and television actress. She is best known for providing the speaking voice of Princess Jasmine in the movie Aladdin and various Aladdin sequels and spin-offs, as well as in the Kingdom Hearts video game series. In order for her to voice Princess Jasmine she had to lower her voice due to Disney saying her voice was too high for Jasmine's voice. For her work at Disney, Larkin was honored as a Disney Legend on August 19, 2011
Linda Larkin grew up with Disney princesses -- Cinderella and Princess Aurora were childhood favorites?and she had a sense of fate when she went to audition for the animated feature Aladdin (1992). "I read a line of dialogue that said, 'It's all so magical,'" the actress once recalled. "I was very taken with that line, and I knew it was meant to be."



Linda was born in Alaska and moved to Duluth, Minnesota, at the tender age of 18 months. In the fifth grade, she relocated with her family to Maplewood, a suburb of St. Paul, where she became active in the performing arts world, studying dance -- ballet was her specialty -- and auditioning at age 12 for the role of Cinderella at the Minneapolis Children's Theatre. She toured the country with a group from the renowned Larkin Dance Studio, from which she took her professional last name.



At age 18, Linda moved to New York City to attend Hofstra University and to pursue a career in the arts. Her first professional job was dancing in a Disney-produced extravaganza at Yankee Stadium. As her education progressed, her focus shifted from dancing to acting, and after graduation she continued those studies, this time with renowned acting coach and instructor Anthony Abeson.



While visiting a friend in Los Angeles in 1989, Linda was cast in her first film and followed that role with appearances on popular television programs such as Doogie Howser, M.D. and Murder, She Wrote. She continued refining her craft in both Los Angeles and New York, as well as in regional stage roles around the country, before being cast as the speaking voice of the fiery Princess Jasmine in Aladdin.



She continued acting in TV series such as Wings and Law & Order: Criminal Intent and feature films such as Our Son, the Matchmaker, Basquiat (both in 1996), Childhood's End (1997), Runaway Bride (1999), The Next Best Thing (2000), and Joshua and You Belong to Me (both in 2007).



Over the years, she has often returned to the role of Jasmine in the sequels The Return of Jafar (1994) and Aladdin and the King of Thieves (1996); the 1994-1996 Aladdin TV series; and in games, including Kingdom Hearts and Kingdom Hearts II.



"Aladdin was my first big job, and it definitely opened a lot of doors for me," Linda once said. "I think being the voice of Princess Jasmine has given me an extra advantage in getting some of the jobs I've had -- although sometimes they find out about me being Princess Jasmine after they've hired me, and that's always fun!" Linda cherishes the role Disney has played in her life. "I've always believed that if you have a wish, then you also have the power to make it come true."
http://disney.go.com/disneyinsider/history/legends