Hidden Mickey Book Series
By

NANCY TEMPLE RODRIGUE & DAVID W. SMITH
There are three books in the Hidden Mickey set of books. I have only read the first of the series but I wanted to share these books with other Disney fans. Books four and five are coming out November 15th, 2011.
Books one and two were co-written but Nancy Temple Rodrigue & David W. Smith. Books three and four are written by Nancy Temple Rodrigue. Book five is written by David W. Smith.
At first I felt the books were a little slow, especially when compared with Kingdom Keepers or Peter and the Starcatchers. I found that comparison was not fair. First off these books are for an older Disney fan base. The story centers around a couple of 20 something year old guys who love Disney but are none the less guys. Need I say more? They drink, think and talk about the ladies and just act like well young men.
I will not give spoilers just some fun teasers. Book one, Hidden Mickey: Sometimes Dead Men DO Tell Tales starts with the death of Walt Disney. It then fast forwards almost 40 years to two young men on a Mouse Adventure Hunt at Disneyland. One of the men discovers Walt's Diary! The Diary is full of clues that lead them on a real adventure of a lifetime learning more about the Man behind the Mouse, Walt Disney. It also leads to treasure that any Disney fan would love to have.
The friends end up traveling around to various places that were important to Walt the man. At each spot, if they followed the clue correctly they find a bit of treasure and another clue that leads them on.
I found these books engaging, interesting and informative. These books hold true to the information I know about Walt the man. The dates and locations are accurate as far as I can tell and tell about important locations and events in Walt's life.
What got me is the big twist in the middle of the book. I will not give any clues as to what it is but I will say WOW!! There is an unexpected twist and things take a wild turn. I was so engrossed with this part of the book I could not put it down. I stayed up all night reading until I finished the book.
I was slightly disappointed with the end of the book. What was found at the end could not be because it is a proven and know fact Walt did not do what the book says he did at the end. I will not spoil the story by giving away what they say Walt did because it is a fun read none the less.
Now I will share what the HiddenMickeyBook.com site says about each of the books.
Book 1: Hidden Mickey: Sometimes Dead Men Do Tell Tales.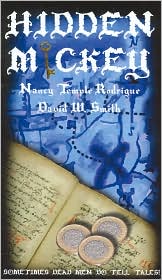 While running a spirited Mouse Adventure road rally through Disneyland, best friends Adam & Lance stumble across a long-lost diary of Walt Disney's. The diary hints of hidden treasure and leads them on a wild cross-country search filled with discoveries – about the famous man, his life, and about themselves.
Beth, Adam's former girlfriend, was fired from her beloved job at Disneyland thanks to Adam. Now he needs her help in untangling a web of clues that Walt left behind. Can she put their past aside and work with him again? Can the three friends decipher the eccentric clues that Disney himself may have ingeniously devised? Is someone else sniffing the same trail of clues and seeking the Disney cache for themselves?
As the clues lead them closer to their goal - and deeper in the legacy of Walt Disney himself - will they find some long-lost treasure? Or is this one final illusion by the World's Greatest Storyteller?
Anyone who loves all-things Disney will be swept up in the intrigue of the sometimes subtle, sometimes obscure, and always amazing facts surrounding one of the most recognized, beloved and ingenious men of all time. Walk in the shoes of our intrepid treasure hunters as they scavenge historical records and discover amazing connections, while they seek out what Walt may have left behind.
Each page indulges the reader's imagination and immerses them into the world of magic Walt Disney created everywhere he went.
HIDDEN MICKEY
takes readers on a wild ride; consider it Mr. Toad's Wild Ride on steroids.
Sometimes Dead Men DO Tell Tales!
Book 2: It All Started . . .
Takes you through hidden parts of Disneyland and exotic locations in Walt Disney's history. You will finally meet the mysterious Blond-Haired Man, first seen at the bedside of one of the world's most beloved entertainers in the first book of the Hidden Mickey series, Sometimes Dead Men DO Tell Tales! What was included in the set of instructions he was given by Walt just before he died? Is there more to the Hidden Mickey quest than we were already shown? What is the real power of the red heart-shaped diamond that mysteriously came from the depths of the jungle?
Lance Brentwood, the spoiled bad-boy of Hidden Mickey, finds himself in an unfamiliar position – alone and at loose ends. Staying with his Security job at Disneyland, he goes back to the scene of his crime. Now, in an ironic twist of fate, Lance is the one at the receiving end of a .44 Magnum.
When Lance awakens in an unknown location, he learns that the legacy Walt set in place is more far-reaching than he had ever imagined. He is given one cryptic clue and finds that his entire destiny lies in it's decipher. Can Lance earn the trust of the Blond-Haired Man's daughter, Kimberly, or does the feisty beauty have plans of her own? The intrigue heats up when Lance has to team up with Kimberly as the two embark on an even wilder quest to unravel Walt Disney's final clue and ultimately find the very treasure that helped Walt build the greatest entertainment company in the world.
As the Blond-Haired Man's chauffer, Daniel Crain was content to sit on the sidelines and live the easy life. Seeing a chance to up the stakes, Crain will stop at nothing to step into the position of power he feels he has been deprived. The only thing he sees standing in his way is Lance – and what appears to be a growing attachment between Lance and Kimberly.
Who will win the battle for Walt's legacy – the one man determined to preserve it or the other man determined to destroy it? In what seems to be a no-way-out situation, Lance discovers there is far more to the Legacy of the great showman, Walt Disney, and is thrust into a life-or-death race to uncover what the Master Storyteller wants someone to find.
For Lance, It All Started...
Book 3:
Wolf!: The Legend of Tom Sawyer's Island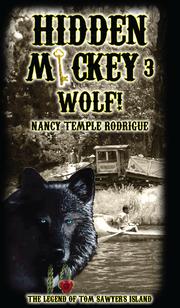 How far would you be willing to go to save your life—as well as the potential future of your boss, Walt Disney? Would you put your life in the hands of a mysterious security guard named Wolf who seems to have uncanny abilities that reach far beyond the realms of logic? Would you be willing to breech the very fabric of time itself to save Walt's Legacy?
Wolf has dedicated his life to guarding his boss Walt Disney. Little did anyone know how far-reaching that dedication would need to extend.
Dr. Claude Houser, a doctor and scientist employed by Walt Disney, finds his life and Walt's future threatened by an unknown blackmailer. Relocating the doctor where he can't be harmed Wolf tirelessly seeks to find and stop this malicious villain. Only then will he consider bringing the doctor back to continue his vital work.
Wolf sends Disneyland cast member Wals Davis to aid the doctor and a damsel in distress. Wals now finds himself in a bizarre—yet strangely familiar—setting where time moves differently and things that occur in the present seem to have a profound effect on things that happen in the past.
It will take all of Wolf's cunning to bring three vastly different people back through the swirling vortex of time.
The Legend of Tom Sawyer's Island
Book 4:
Wolf!: Happily Ever After? (To Be Released November 15th, 2011)
Book 4
continues where Hidden Mickey 3 Wolf!: The Legend of Tom Sawyer's Island left off...
Wolf, the mysterious Disneyland security guard and Guardian of Walt Disney, along with a 21st century helper and a lovely damsel lost in time, finds himself traveling throughout history as he tries to get the enchanted princess, Briar Rose, back to her own castle and time. As the powerful red diamond heart-shaped pendant gets closer to its rightful owner, Wolf crosses paths with Merlin as he tries to sort out the dangers ahead.
Once loved by the powerful Merlin, his apprentice Nimue shows her true colors by betraying him—and all who come close to her—as she attempts to regain control of the powerful pendant. Her name might change through the eons, but her heart of evil stays the same.
Trying to keep his home base of Disneyland as his touchstone, Wolf struggles against the powers of darkness. When it finally overtakes him, his friend Wals must figure out a way to break through the fabric of time to bring back help. Returning to the Guardian's distant past, Wals must convince Wolf's warrior brother Mato to trust him and leap into the swirling vortex that destroyed his brother's life.
Join the heroes—past and present—as they unite for one last stand against the forces of evil in a showdown that will rock the very foundations on which Disneyland was built.
Hidden Mickey 5: Chasing New Frontiers (To Be Released November 15th, 2011)
When Nathan Duncan, an unscrupulous landscaper at Disneyland, found a way to steal—and hide—a large sum of money at Disneyland, his sudden death literally buried any chance of finding where he hid the money.
Forty years later, when international singing sensation, twenty-one year old Swiss pop star Malaysia Hosner decides on an unscheduled incognito trip to the "Happiest Place on Earth" she meets handsome Blain Walters, a charismatic Disneyland Cast Member. Together, the two stumble upon a lost forty year-old clue that is at the heart of a full—fledged mystery of 'Hidden Mickey' proportions!
As "Missy," Malaysia finds it more and more difficult to keep her true identity a secret while helping Blain follow a mysterious trail of clues...a trail that not only bring Malaysia and Blain closer together, but a trail that reveals a dangerous plot to unearth the long-secret location of forty-year-old stolen treasure.
Will Blain learn Malaysia's real identity? Who else has a stake in finding Walt Disney's pendant and money? What secrets still exist at Disneyland?
Chasing a legendary treasure, finding hidden locations in Disneyland, following long—lost clues, and discovering true romance along the way, readers will literally be chasing 'New Frontiers' in this exciting HIDDEN MICKEY novel!
Based on a true story, Author David W. Smith, co-author of Hidden Mickey 1 & 2, again brings his Disneyland "Insider's" experience to all those who love action, adventure, mystery and romance, to this Hidden Mickey novel.