Every Disney Hero Has a Voice
Alice and
Wendy Moira Angela Darling
Born June 27th, 1938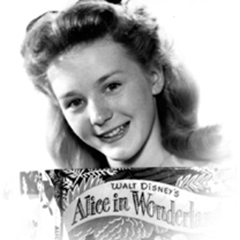 When Walt Disney started production on the animated classic "Alice in Wonderland," in 1949, he sought the perfect voice to play the literary ingénue. A voice, recalled Kathryn Beaumont, that "would be English enough to satisfy British audiences, but not so English that it would put off American audiences." After hearing ten-year-old Kathryn's audition, Walt chose her for the voice of Alice and later, Wendy Darling in "Peter Pan."

Born in London, England, Kathryn came to the U.S. under contract to MGM and appeared in several films, including "On an Island with You" starring Esther Williams. She soon landed at The Walt Disney Studios, where she not only recorded the voice of Alice, but portrayed her on film. Animators regularly referred to her filmed performances as they brought her character to life.

She later said, "When I look at the film now, I can recognize some of the movements. It's a little like seeing myself 30 years ago. I can see some of the mannerisms I used, which the animators captured to give the characters a naturalness of movement."

In 1951, Kathryn went on a promotional tour for "Alice in Wonderland," which included a trip aboard the Queen Mary to her native England. Within two weeks of her return, she was cast as Wendy in "Peter Pan" for which she again served as both speaking voice and physical model of the animated character. She also served as a model for Tinker Bell.

Kathryn once recalled being hoisted up by a wire into the air, on one of the Studio sound stages, and swinging back and forth so animators could study her movement for the "flying" sequences.

She said, "I had a slight fear of heights. Most kids would think, "Oh, what fun!" I, however, was petrified!"

In 1950, Kathryn also appeared with Walt in his first one-hour television special, "One Hour in Wonderland," and returned the next year, as Wendy in "The Walt Disney Christmas Show."

After the 1953 release of "Peter Pan," Kathryn graduated from high school and enrolled at the University of Southern California, where she earned a degree in education. She taught elementary school in Los Angeles for the next 36 years, retiring in 1997.

Over the years, she has occasionally lent her voice to Disney theme park attractions, including the "Alice in Wonderland" attraction in 1984. In 1992, she returned as the voice of Wendy, calling out to Peter Pan during the pirate sequence of "Fantasmic!" Six years later, she helped promote the release of "Peter Pan" on video and made a guest appearance at the Disneyana Convention in Walt Disney World.
Kathryn Beaumont
(born 27 June 1938) is an English actress, singer, school teacher who was born in London. She is best known for playing the voice of both Alice, in Disney's Alice in Wonderland and Wendy in Disney's Peter Pan. Walt Disney personally cast Beaumont after seeing the film On an Island with You, in which child actress Beaumont had a small role. Beaument has also reprised her voice acting role as Alice in two episodes of the animated series, Disney's House of Mouse.
Roles
It Happened One Sunday

(1944) - Jill Buckland

On an Island with You

(1948) - Penelope Peabody

The Secret Garden

(1949) - Muriel

Challenge to Lassie

(1949) - Tenement Child

One Hour in Wonderland

(1950) - Herself/Alice

Operation Wonderland

(1951) - Herself/Alice

What's My Line

(1951) - Herself as a celebrity challenger (episode 2)

The Fred Warning Show

(1951) - Alice

Alice in Wonderland

(1951) - Alice

From All of Us to All of You

(1951) - Alice

Peter Pan

(1953) – Wendy Moira Angela Darling

TV Reader's Digest

(1955) - Priscilla Mullins (The Voyage of Captain Tom Jones, the Pirate)

The Raggy Dolls

(1986) - Princess

Disney's Villains' Revenge

(1999) (video game) - Alice

Kingdom Hearts

(2002) (video game) - Alice, Wendy Darling

Disney's House of Mouse

(2002) - Alice (in two episodes)

101 Dalmatians II: Patch's London Adventure

(2003) - Additional voices

BBC Breakfast

(2007) - Herself

Kingdom Hearts Birth by Sleep

(2010) (video game) - Kairi's Grandma