The Story of Robin Hood & His Merrie Men
Release Date June 26th, 1952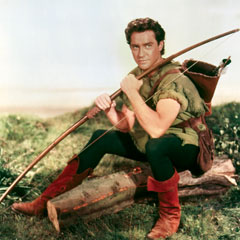 Young Robin Hood, in love with Maid Marian, enters an archery contest with his father at the King's palace.
The Story of Robin Hood and His Merrie Men
is a 1952 live action Disney version of the Robin Hood legend made in Technicolor and filmed in Buckinghamshire, England. It was written by Lawrence Edward Watkin and directed by Ken Annakin. This is the second of Disney's complete live-action films, after Treasure Island (1950).
Cast
Richard Todd as Robin Hood

Joan Rice as Maid Marian

Peter Finch as the Sheriff of Nottingham

James Hayter as Friar Tuck

James Robertson Justice as Little John

Martita Hunt as Queen Eleanor of Aquitaine

Hubert Gregg as Prince John

Elton Hayes as Alan-a-Dale

Anthony Eustrel as the Archbishop of Canterbury

Patrick Barr as King Richard I

Anthony Forwood as Will Scarlet

Bill Owen as Will Stutely
Production
Production began in April 1951 at Denham Film Studios in London. This was the second movie Disney made in England, the first being Treasure Island (1950). These and several other Disney films were made using British funds frozen during World War II. The Story of Robin Hood and His Merrie Men was filmed in 3-strip Technicolor.
Release
The world premiere was in London on March 13, 1952; the New York opening was on June 26, 1952. In a wake of this a promotional film entitled The Riddle of Robin Hood was produced.
The film was one of the most popular in Britain in 1952.
Home releases
A Laserdisc was released in 1992, a VHS tape was released in 1994 (the Walt Disney's Studio Film Collection) and a limited Disney Movie Club DVD was released in July 2006. All releases are 1.33:1 fullscreen in monaural (as shot).
A Disneyland Records LP of four songs from the soundtrack with narration by Dallas McKennon was released in 1963.