Every Disney Hero Has a Voice
The Story of Robin Hood & His Merrie Men (1952)
Disney Legend ~ Richard Todd
June 11th, 1919 – December 3rd, 2009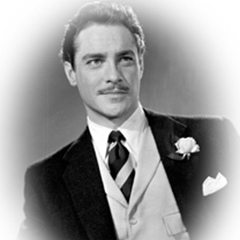 Actor Richard Todd's innate power and dash proved a perfect fit for Disney's chivalrous, high-adventure movies "The Story of Robin Hood and His Merrie Men" in 1952, "The Sword and the Rose" in 1953 and "Rob Roy, the Highland Rogue," which in 1954, was selected as the Command Performance Film in England.
Long before Mel Gibson starred in "Braveheart," Film Critic Bosley Crowther described Richard in the "New York Times" as "handsome as the kilted and bonneted Rob, simply a splendid idealization of the hero ..."
All three motion pictures were produced in England with blocked funds that Disney had been unable to get out of the country since World War II. While some questioned Disney's presence overseas, the actor felt it perfectly appropriate.
After all, he pointed out to a" Los Angeles Times" reporter in 1953, "They're British stories!"
Born June 11, 1919, to a British army officer, Richard grew up in Ireland, India, and England. He attended a London drama school, where his natural acting ability upstaged his initial intent to playwright. He worked with various repertory companies, including the Open Air Theatre in Regents Park, where he played opposite Vivien Leigh in "Shakespeare's Twelfth Night," and founded the Dundee Repertory Theatre in 1939.
Soon after, World War II interrupted his career. Richard, who served in the King's Own Yorkshire Light Infantry and the Parachute Regiment, was among the first wave of parachutists dropped onto the beaches of Normandy for the D-Day Invasion. He also participated in the Battle of the Bulge and Rhine crossing operations.
By 1946, Richard was a ready-made hero for post-war movies. His role with Ronald Reagan in "The Hasty Heart" in 1949, won him critical acclaim on both sides of the Atlantic, including an Academy Award nomination and British National Film Award. The next year, he was cast by Alfred Hitchcock with Jane Wyman and Marlene Dietrich in "Stage Fright." His other films include "Lightning Strikes Twice" directed by King Vidor, "The Virgin Queen" with Bette Davis and "A Man Called Peter" directed by Henry Koster.
Richard was particularly well-suited for war-themed motion pictures. Among them, "The Dam Busters" with Michael Redgrave, "D-Day the Sixth of June" with Robert Taylor, "The Longest Day" directed by fellow Legend Ken Annakin, and more.
Richard recalled his transition from mostly war films to Disney medieval fare with bemused affection, saying the "Robin Hood roles" were "where my image was all daring deeds, until my swash began to buckle a bit."
By the late-1960s, he returned his focus to his first love, the stage, performing in productions, including Oscar Wilde's "An Ideal Husband." Among his small screen roles, Richard Todd costarred as himself in the 1996 television movie "Marlene Dietrich: Shadow and Light."
Todd died at home on December 3, 2009.
Richard Todd
OBE (11 June 1919 – 3 December 2009) was an Irish-born British stage and film actor and soldier.
Early life
Richard Todd was born as Richard Andrew Palethorpe-Todd in Dublin, Ireland. His father, Andrew William Palethorpe Todd, was an Irish physician and an international Irish rugby player who gained three caps for his country. Richard spent a few of his childhood years in India, where his father, a British officer, served as an army physician.
Later his family moved to West Devon and Todd attended Shrewsbury School. Upon leaving school, Todd trained for a potential military career at Sandhurst before inaugurating his acting training at the Italia Conti Academy.
This change in career led to estrangement from his mother. When he learned, aged 19, she had committed suicide, he admitted in later life that he had not grieved long for her.
He first appeared professionally as an actor at the Open Air Theatre, Regent's Park in 1936 in a production of Twelfth Night. He played in regional theatres and then co-founded the Dundee Repertory Theatre in 1939.
Army career
During the Second World War, Todd joined the British Army, receiving a commission in 1941. Initially, he served in the King's Own Yorkshire Light Infantry before joining the Parachute Regiment and being assigned to the 7th (Light Infantry) Parachute Battalion as part of the British 6th Airborne Division.
On 6 June 1944, as a captain, he participated in the British Airborne Operation Tonga during the D-Day landings. Todd was among the first British officers to land in Normandy as part of Operation Overlord. His battalion were reinforcements that parachuted in after glider forces had landed and completed the main assault against Pegasus Bridge near Caen. He later met up with Major John Howard on Pegasus Bridge and helped repel several German counter attacks.
As an actor, Todd would later play Howard in the 1962 film The Longest Day, while Todd himself was played by another actor.
Acting
After the war, Todd returned to repertory theatre in the UK. He was appearing in a play when spotted by Robert Lennard, a casting director for Associated British Picture Corporation. That company offered him a screen test, and subsequently signed him a long-term contract in 1948. He was cast in For Them That Trespass (1949).
Todd had appeared in the Dundee Repertory stage version of The Hasty Heart, playing the role of Yank and was subsequently chosen to appear in the 1948 London stage version of the play, this time in the leading role of Cpl. Lachlan McLachlan. This led to his being cast in that role in the Warner Bros. film adaptation of the play, which was filmed in England. Todd was nominated for the Academy Award for Best Actor for the role in 1949.
Alfred Hitchcock used him in Stage Fright (1950), then he made a film in Hollywood for King Vidor, Lightning Strikes Twice (1951). Neither did particularly well at the box office. He appeared in three movies for the Disney Corporation, The Story of Robin Hood and His Merrie Men (1952), The Sword and the Rose (1953) and Rob Roy, the Highland Rogue (1953).
In 1953, he appeared in a BBC Television adaptation of the novel Wuthering Heights, as Heathcliff. Nigel Kneale, responsible for the adaptation, said the production came about purely because Todd had turned up at the BBC and told them that he would like to play Heathcliff for them. Kneale had to write the script in only a week as the broadcast was rushed into production.
Todd's career received a boost when 20th Century-Fox signed him to a non-exclusive contract and cast him as the United States Senate Chaplain Peter Marshall in the film version of Catherine Marshall's bestselling biography, A Man Called Peter (1955). This was a popular success, as was The Dam Busters (1955) in which Todd played Wing Commander Guy Gibson. Other notable films he starred in include Saint Joan (1957), directed by Otto Preminger, and The Yangtse Incident (1957).
His roles grew smaller and/or less distinguished throughout the 1960s. In 1964 he was a member of the jury at the 14th Berlin International Film Festival.
In the 1970s, he gained new fans when he appeared as the reader for Radio Four's Morning Story. In the 1980s his distinctive voice was heard as narrator of the series Wings Over The World, a show about the history of aviation shown on Arts & Entertainment television. He appears before the camera in the episode about the Lancaster bomber. Todd continued to act on television, including roles in Virtual Murder, Silent Witness, and in the Doctor Who story Kinda in 1982.
His active acting career extended into his eighties. He was appointed an Officer of the Order of the British Empire in 1993.
Unmade Projects
Todd was the first choice of author Ian Fleming to play James Bond in Dr. No, but a scheduling conflict gave the role to Sean Connery. In the 1960s, Todd unsuccessfully attempted to produce a film of Ian Fleming's The Diamond Smugglers and a television series based on true accounts of the Queen's Messengers. He was also announced for a proposed movie about William Shakespeare.
In his book British Film Character Actors (1982), Terence Pettigrew described Todd as 'an actor who made the most of what he had, which could be summed up as an inability to sit still while there was a horse to leap astride, a swollen river to swim, or a tree to vanish into.'
Personal life
Both Todd's marriages ended in divorce. His first was to actress Catherine Grant-Bogle, whom he met in Dundee Repertory and was married to from 1949 until 1970; they had a son Peter (1952–2005) and a daughter Fiona. He was married to model Virginia Mailer from 1970 until 1992; they had two sons, Andrew, and Seamus (1977–1997). In retirement, Todd lived in the village of Little Ponton and later in Little Humby, 8 miles from Grantham, Lincolnshire.
Two of Todd's four children committed suicide. In 1997, Seamus Palethorpe-Todd shot himself in the head in the family home in Lincolnshire. An inquest heard the suicide might have been a depressive reaction to the drug he was taking for severe acne. On 21 September 2005, Peter killed himself with a shotgun in East Malling, Kent, following marital difficulties.
His sons' suicides affected Todd profoundly; he admitted to visiting their adjoining graves regularly. He told the Daily Mail, that dealing with those tragedies was like his experience of war, "You don't consciously set out to do something gallant. You just do it because that is what you are there for."
Legacy
Todd, with his own military record, was a keen supporter of remembrance events especially those associated with the Normandy landings and the Dambusters. He continued to be identified in the public consciousness with Guy Gibson, the role he played in The Dam Busters.
Todd appeared at many Dambusters' anniversaries at Derwent Dam. His final appearance was in May 2008 with Les Munro (the last surviving pilot from the raid on the Ruhr dams).
The actor also narrated at least one TV documentary about The Dambusters and contributed forewords to many books on the subject, including The Dam Busters by Jonathan Falconer (2003), Filming The Dam Busters by Jonathan Falconer (2005) and most recently Bouncing-Bomb Man: The Science of Sir Barnes Wallis by Iain Murray (2009).
Death
Todd, who had been suffering from cancer, died in his sleep at his Little Humby home on 3 December 2009. He is survived by his daughter and one of his three sons, Andrew.
Selected filmography
The Hasty Heart

(1949)

The Interrupted Journey

(1949)

For Them That Trespass

(1949)

Portrait of Clare

(1950)

Stage Fright

(1950)

Lightning Strikes Twice

(1951)

Flesh and Blood

(1951)

24 Hours of a Woman's Life

(1952)

The Story of Robin Hood and His Merrie Men

(1952) as Robin Hood

Venetian Bird

(1952)

The Sword and the Rose

(1953) as Charles Brandon

Wuthering Heights

(1953) (TV) as Heathcliff

Rob Roy, the Highland Rogue

(1954) as Rob Roy MacGregor

The Dam Busters

(1954) as Wing Commander Guy Gibson, VC

A Man Called Peter

(1955) as Peter Marshall

The Virgin Queen

(1955) as Sir Walter Raleigh

D-Day the Sixth of June

(1956)

Marie-Antoinette reine de France

(1956) as Comte Axel von Fersen

Yangtse Incident

(1957) as John Kerans

Saint Joan

(1957) as Jean de Dunois

Chase a Crooked Shadow

(1958)

Danger Within

(1958)

Intent to Kill

(1958)

Never Let Go

(1960)

The Long and the Short and the Tall

(1961)

The Hellions

(1961)

Don't Bother to Knock

(1961)

The Longest Day

(1962) as Major John Howard

The Very Edge

(1962)

The Boys

(1962)

Death Drums Along the River

(1963) as Harry Sanders

Coast of Skeletons

(1964) as Harry Sanders

Operation Crossbow

(1965)

The Battle of the Villa Fiorita

(1965)

The Love-Ins

(1967)

Subterfuge

(1968)

Last of the Long-haired Boys

(1968)

Dorian Gray

(1970)

No. 1 of the Secret Service

(1977)

The Big Sleep

(1978)

Home Before Midnight

(1979)

House of the Long Shadows

(1983)

Murder One

(1988)
Box Office Rankings
British exhibitors regularly listed Todd among the most popular local stars at the box office in various polls:
1950 - 7th most popular British star

1952 - 5th most popular British star in Britain

1954 - 9th most popular British star

1955 - 7th most popular British star
Select Theatre Credits
An Ideal Husband

by Oscar Wilde (1965) - Strand Theatre London with Margaret Lockwood, Michael Denison, Dulcie Gray and Roger Livesey - also toured South Africa

Dear Octopus

by Dodie Smith (1967) - Haymarket Theatre, London

Sleuth

(1972–73) - Australian tour

Equus

(1975) - Australian tour

The Business of Murder

(1983–91) - Mayfair Theatre, London
Books