Every Disney Hero Has a Voice
Glynis Johns ~ Disney Legend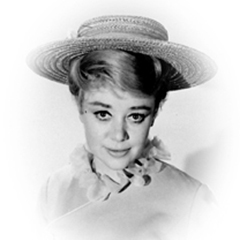 Best known to Disney fans as feminist Winifred Banks in the Academy Award-winning "Mary Poppins," actress Glynis Johns is everyone's favorite sister suffragette. Like many a moviegoer, Walt Disney loved her sparkling screen persona and personally asked Glynis to play the lively and witty role. His choice of casting was right on as film critic Leonard Maltin pointed out in his book, "The Disney Films," "She lights up the screen the minute she appears (in "Mary Poppins")," he wrote. "She makes every minute count and her amusing suffragette song is most enjoyable."
Born October 5, 1923, in Pretoria, South Africa, Glynis made history when she received a degree to teach dance by age 10. By 12, she won 25 gold medals for dance in England and by 13, appeared in her first film, "South Riding." She played her first adult role in a Ministry of Information film, "49th Parallel" (U.S. title "The Invaders"), starring Laurence Olivier, Leslie Howard, and Raymond Massey. And by 19, she was the youngest actress to play the lead role in the theatrical production of "Peter Pan."
In the early 1950s, she became associated with The Walt Disney Studios, when it began to produce live-action films in England. She starred as the capricious Mary Tudor in "The Sword and the Rose" in 1953, co-starring Richard Todd, followed by "Rob Roy, the Highland Rogue," in which she played Helen Mary MacGregor, the spirited wife of a Scottish freedom fighter. In 1964, a decade later, she returned to Disney, to star in "Mary Poppins," which amassed 13 Academy Award nominations, and garnered five Oscars.
Glynis also starred in such television shows as "General Electric Theatre," "The Cavanaughs," as well as her own series, "Glynis." Other programs include "Batman," "Cheers," and "Murder She Wrote," starring Angela Lansbury.
Among her career highlights, in 1960, Glynis won an Academy Award nomination in the category of Best Supporting Actress for her role as Mrs. Firth in the motion picture "The Sundowners," starring Robert Mitchum. And in 1973, she received a Tony Award for her stunning stage performance as Desiree Armfeldt in Stephen Sondheim's "A Little Night Music." In all, she has performed in more than two dozen theatrical productions and more than 50 feature films, including Oscar Wilde's "An Ideal Husband" starring Paulette Goddard, "Dear Brigette" with James Stewart, and "The Secret Garden" co-starring Derek Jacobi.
In 1994, Glynis returned to The Walt Disney Studios to co-star in the Touchstone comedy "The Ref" with Kevin Spacey, followed by Hollywood Pictures' box office smash hit "While You Were Sleeping" starring Sandra Bullock.
Glynis Johns
(born 5 October 1923) is a South African-born Welsh stage and film actress, dancer, pianist and singer (notably of "Send in the Clowns", which she originated in Stephen Sondheim's A Little Night Music, and "Sister Suffragette" which was written for her for Walt Disney's musical motion picture, Mary Poppins written by the Sherman Brothers).
Early life
Johns was born in Pretoria, South Africa, the daughter of Alys Maude (née Steele-Payne), a pianist, and Mervyn Johns (1899–1992), the British stage and film actor. Her roots are in West Wales, and she was born in Pretoria while her parents were performing on tour there. She attended Clifton High School in Bristol for a short time.
Career
Johns made her first stage appearance in Buckie's Bears as a child ballerina at the Garrick Theatre in 1935. She made her 1938 film debut in the movie version of Winifred Holtby's novel South Riding. In 1944, she appeared with her father in Halfway House and in 1948 starred as a mermaid in Miranda (Johns later reprised the role in a 1954 sequel, Mad About Men). In 1952, she co-starred in the movie version of Arnold Bennett's novel The Card. She was voted by British exhibitors the tenth most popular local star at the box office in 1951 and 1952.
She made a successful transition to Hollywood, appearing in Personal Affair (1953) starring Gene Tierney and in The Court Jester (1956) as Danny Kaye's love interest. The following year, she starred in the especially sad Christmas film All Mine to Give. Johns received an Academy Award nomination for Best Supporting Actress for the 1960 film The Sundowners. One of her best-known film roles was that of Winifred Banks, the children's mother, a suffragette, in Mary Poppins (1964). Her last film appearance was in the 1999 film Superstar.
Johns also appeared on television and on stage, most memorably in the original Broadway production of Stephen Sondheim's musical A Little Night Music. The song "Send in the Clowns" was reportedly written with her in mind. In 1973, she won a Tony award for her role in the musical. She later appeared in London in Cause Célèbre by Terence Rattigan. She played opposite Rex Harrison in his final acting role in a Broadway revival of W. Somerset Maugham's play The Circle in 1990. (Harrison's death in his New York apartment from cancer ended the show's run.) Johns starred in the premiere of Horton Foote's A Coffin in Egypt in 1998 at the Bay Street Theatre as Myrtle Bledsoe.
In the 1962-1963 television season, Johns guest starred in the CBS anthology series The Lloyd Bridges Show. In the fall of 1963, she and Keith Andes starred as a married couple in her eponymous CBS television series Glynis, in which she appears as a mystery writer and Andes plays a criminal defense attorney. The program was cancelled after thirteen episodes.
From 1988 to 1989, Johns played Trudie Pepper, a senior citizen living in an Arizona retirement community, in the sitcom Coming Of Age, opposite Alan Young, Phyllis Newman, and Paul Dooley; the show lasted one season on CBS.
Personal life
Johns has been married four times. Her first husband was Anthony Forwood (1942–1948), with whom she had her only child, Gareth Forwood (1945–2007), an actor.
Filmography
Murder in the Family

(1938)

South Riding

(1938)

Prison Without Bars

(1938)

On the Night of the Fire

(1939)

Under Your Hat

(1940)

The Briggs Family

(1940)

The Thief of Bagdad

(1940) (uncredited)

The Prime Minister

(1941) (uncredited)

49th Parallel

(1941)

The Adventures of Tartu

(1943)

The Halfway House

(1944)

Perfect Strangers

(1945)

This Man Is Mine

(1946)

Frieda

(1947)

An Ideal Husband

(1947)

Third Time Lucky

(1948)

Miranda

(1948)

Dear Mr. Prohack

(1949)

The Blue Lamp

(1950) (uncredited)

State Secret

(1950)

Flesh & Blood

(1951)

No Highway

, released in the U.S. as No Highway in the Sky (1951)

The Magic Box

(1951)

Appointment with Venus

(1951)

Encore

(1951)

The Card

(1952)

The Sword and the Rose

(1953)

Rob Roy, the Highland Rogue

(1953)

Personal Affair

(1953)

The Weak and the Wicked

(1954)

The Seekers

(1954)

The Beachcomber

(1954)

Mad About Men

(1954)

Josephine and Men

(1955)

The Court Jester

(1956)

Loser Takes All

(1956)

Around the World in Eighty Days

(1956)

All Mine to Give

(1957)

Another Time, Another Place

(1958)

Last of the Few

(1959)

Shake Hands with the Devil

(1959)

The Spider's Web

(1960)

The Sundowners

(1960)

The Cabinet of Caligari

(1962)

The Chapman Report

(1962)

Papa's Delicate Condition

(1963)

Mary Poppins

(1964)

12 o'clock High

(1964) (TV) - Jennifer Heath

Dear Brigitte

(1965)

Batman

(1967)

Don't Just Stand There!

(1968)

Lock Up Your Daughters!

(1969)

Under Milk Wood

(1972)

The Vault of Horror

(1973)

The Happy Prince

(1974) (voice)

Mrs. Amworth

(1975, short)

Three Dangerous Ladies

(1977)

Little Gloria... Happy at Last

(1982) (TV)

Cheers

(1983) (TV) Season One - Mrs. Helen Chambers

Murder She Wrote

(1985) (TV)

Murder in the Family

(1985) (Miniseries)

Scooby-Doo and the Ghoul School

(1988) (TV) (voice)

Zelly and Me

(1988)

Nukie

(1988)

The Ref

(1994)

While You Were Sleeping

(1995)

Superstar

(1999)
Theatre (selected)
1936-36 St Helena, Old Vic
1937 Judgement Day, Embassy and Strand
1938 Quiet Wedding, Wyndham's
1941 Quiet Weekend, Wyndham's
1943 Peter Pan (Peter), Cambridge Theatre
1950 Fools Rush In, Fortune
1950 The Way Things Go, Phœnix
1952 Gertie (title role), Broadway
1956 Major Barbara (title role), Broadway
1963 Too True to Be Good, Broadway
1966 The King's Mare, Garrick
1969-70 A Talent to Amuse, Phoenix Theatre
1969-70 Come As You Are, New Theatre
1971-72 Marquise, The Hippodrome, Bristol
1973 A Little Night Music (Tony Award for best musical actress), Broadway
1975 Ring Round the Moon, Los Angeles
1976 13 Rue de l'Amour, Phœnix
1978 Cause Celebre (Best Actress Award, Variety Club), Her Majesty's Theatre
1980-81 Hay Fever, Yvonne Arnaud Theatre, Guildford
1980-90 The Boy Friend, Toronto
1989-90 The Circle, Broadway
1998 A Coffin in Egypt, Bay Street Theatre