Every Disney Hero Has a Voice
Fess Parker ~ John 'Doc' Grayson
August 18, 1924 – March 18, 2010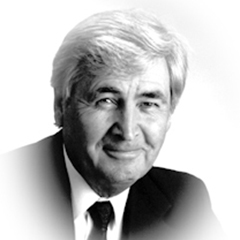 In the mid-1950s, when Fess parker first donned a coonskin cap to play the American historical character Davy Crockett for a three-part Walt Disney television show, little did he know he was about to become a hero to Baby Boomers across the nation.
More than 40 years later, in 1997, Fess described the profound influence his popular character had on young viewers. "Folks tell me over and over how much that character shaped their lives," he said. "I have to believe that the impact of those programs was due as much the values inculcated in them as to their entertainment quality."
Fess was catapulted to fame almost overnight after "Davy Crockett Indian fighter," "Davy Crockett Goes to Congress," and "Davy Crockett at the Alamo" debuted on the "Disneyland" television series, beginning in 1954. Even the ditty he recorded for Disney and RCA records, "the Ballad of Davy Crockett" was on the lips of every young boy (and girl) in America at the time, winning the actor a gold record. And when Disneyland opened in 1955, his personal appearance on horseback, as Davy Crockett, proved to be a huge crowd–pleaser.
Born and Fort Worth, Texas, on August 18, 1924, Fess grew up on a farm in San Angelo, Texas. Named after his father ("Fess" means "proud" in Old English), he graduated from the University of Texas in 1950, where he studied law and business administration. He then moved to Los Angeles, to pursue an acting career and studied drama at the University of Southern California. Shortly thereafter, he made his film debut in "Untamed Frontier," sterling Shelley Winters.
In 1954, Walt Disney spotted the actor in a film called "Them!" and quickly signed Fess to a Studio contract. He went on to star in such Disney films as "Westward Ho the Wagons!" "The Great Locomotive Chase," "Old Yeller" and "The Light in the Forest." He also starred in two additional Davy Crockett television shows: "Davy Crockett's Keelboat Race" and "Davy Crockett and the River Pirates." Much later, in 1978, Fess appeared in "NBC Salutes the 25th anniversary of the Wonderful World of Disney."
After leaving Disney, Fess donned his coonskin cap once again to play Daniel Boone. For six years, beginning in 1964, he starred in a popular television series by the same name and record five that's most popular episodes.
Later, he went on to become a successful businessman in real estate developer, Fess owned a winery in Los Olivos, California (near Santa Barbara) where he could often be found signing his autograph for wine and Disney lovers, alike.
Sadly, Fess Parker died on March 18, 2010 at his home near Santa Barbara, California. He was 85.
Fess Elisha Parker, Jr.
(August 16, 1924 – March 18, 2010)

was an American film and television
actor

best known for his portrayals of

Davy Crockett

in the

Walt Disney

1955–1956 TV mini-series and as TV's

Daniel Boone

from 1964 to 1970.

He was also known as a

wine maker

and

resort

owner-operator.
The Fess Parker Winery is one of the wineries along the famous

Foxen Canyon Wine Trail.
Fess Parker was born in

Fort Worth,
Texas, and reared on a farm in

Tom Green County

near

San Angelo.

He enlisted in the

U.S. Navy

in the latter part of

World War II,

hoping to become a

pilot. He was turned down because he was too tall at 6 feet 6 inches (1.98 m).

He then tried to become a radioman gunner, but he was found too big to fit comfortably into the rear cockpit. He was finally transferred to the

Marine Corps

as a radio operator and shipped out for the South Pacific shortly before the atom bomb ended the war.
Discharged in 1946, he enrolled in

Hardin-
Simmons

on the

GI Bill. He was stabbed in the neck by another driver during a post-collision argument.

He was an active member of the H-SU Players Club and transferred to the

University of Texas

in 1947 as a history major and continued to be active in dramatics. Parker

graduated

from UT in 1950 with a degree in history. He had been initiated into the

Pi Kappa Alpha

fraternity. Having one year remaining on his GI Bill, he studied drama at the

University of Southern California, where he studied for a master's degree in theater history.
Parker began his show-business career by summer 1951 when he had a $32-a-week job as an extra in the play

Mister
Roberts
,

although he is credited with the voice of Leslie, the chauffeur, in the 1950 film

Harvey. Within months, he was on location with a minor part in

Untamed Frontier

with

Joseph Cotten

and

Shelley Winters.
Parker became a contract player with
Warner Brothers

appearing in small roles in several films such as

Springfield Rifle

(1952),

Island in the Sky,

The Bounty Hunter

and

Battle Cry. In 1954, he appeared as

Grat Dalton

in the

Jim Davis

syndicated

western

anthology series

Stories of the Century

in the episode

The Dalton Brothers.
Davy Crockett
According to Parker himself, when the Walt Disney Company was seeking an actor to play Davy Crockett,

James Arness, thereafter cast as

Marshal Matt Dillon

on

CBS's

Gunsmoke, was first considered for the title role. Parker had recently graduated to a contract weekly actor, but listened to his agent and appeared in a

B movie

called

Them!

which required only one day's work. He had a small scene in the movie as a pilot put into an insane asylum after claiming his plane had been downed by giant flying insects. Arness appeared in a larger role in the same film.
During the screening of this film, Walt Disney looked past Arness and discovered Parker. Disney was impressed by Parker's portrayal of a man who was unswerving in his belief in what he saw despite the forces of authority against him. Parker was asked to drop by the Disney Studio. When he did, he brought his guitar, met Disney, sang a song, then said goodbye. Several weeks later Parker was informed that he had
been selected over Arness and several other actors for the role, including

Buddy Ebsen

who eventually played Crockett's companion, George Russell.
Disney's three episode version of Crockett depicted his exploits as a frontiersman, congressman, and tragic hero of the Alamo. It has been called the first television

miniseries, though the term had not yet been coined.

Davy Crockett

(1954–55) was a tremendous hit and led to a merchandising frenzy for coonskin caps and all things Crockett.
Parker became a contract star for Disney and appeared in

The Great Locomotive Chase,

Westward Ho, the Wagons!,

Old Yeller, and

The Light in the Forest. He complained they were all basically the same role. Disney refused to loan Parker for roles outside of that

persona, such as

The Searchers

and

Bus Stop.
Parker made guest appearances on many television programs, and composed and sang. He performed the occasional role of Tom Conrad, editor of the

Diablo Courier

in th
e

syndicated western series,

Annie Oakley

(1954–1957), starring

Gail Davis,

Brad Johnson, and

Jimmy Hawkins.

In 1962, he starred in the title role of the TV series

Mr Smith Goes to Washington. Parker took to the stage in 1963, in a traveling production of

Oklahoma!

as 'Curly'. The movie roles he sought were elusive.
Daniel Boone
Parker's

Daniel
Boone
television series portraying

another historic figure

of America's frontier days began filming in 1964. Over its six years (1964 to 1970) as one of the highest rated shows of its time, Parker was not only the star of the series but also the co-producer and director of five of its most popular episodes.
Ironically, having been under contract to Disney, Parker became interested in opening a Davy Crockett-themed amusement park. In the late 1960s, he optioned land in northern Kentucky at the confluence of Interstate 71 and Interstate 75, with the intention of building Frontier World. However, when the

Taft Broadcasting Company

of

Cincinnati, Ohio

began building

Kings Island Amusement Park in nearby

Mason, Ohio, less than a 2-hour drive from Parker's site, financing for Parker's venture dried up.
Turning down the title role of

McCloud, Parker retired from the film industry in the 1970s, after a short-lived 1974

sitcom,

The Fess Parker Show.
Awards
Fess Parker was nominated for best new personality

Emmy

in 1954, but lost to

George Gobel

. He was never nominated again, nor was his show

Daniel Boone.

[15]
For his work with Disney, Parker was honored in December 2004 with his own tribute window on a façade in the
Frontierland
section of

Disneyland.
After his acting career, Parker devoted much of his time to operating his Fess Parker Family Winery and Vineyards in
Los Olivos, California

.

The winery is owned and operated by Parker's family, and has produced several different types of award-winning wines. Parker's son, Eli, is President and Director of Winemaking &

Vineyard

Operations while daughter, Ashley, is Vice President of Marketing & Sales.

[19]
The Parker operation includes over 1,500 acres (610 ha) of vineyards, and a tasting room and visitor center along the

Foxen Canyon Wine Trail. In addition to wine, the winery is known for sellingcoon skin caps

and bottle toppers, inspired by Parker's Crockett and Boone characters, and for appearing in the movie

Sideways.
In a reminiscence of his acting days, Parkers' wine labels have a logo of a

golden coonskin cap.
Parker married Marcella Belle Rinehart on January 18, 1960. They had two children, Fess Elisha Parker III and Ashley Allen Rinehart...along with 11 grandchildren and a great-grandson.
According to a spokesperson, Parker died of natural causes on March 18, 2010, at his home in
Santa Ynez, California, near the Fess Parker Winery.
He was buried with his parents at Santa Barbara Cemetery in

Santa Barbara, California.