Monsanto House of the Future ~ Past
In 1957 a unique view in to a home of the future was opened at Disneyland. The Monsanto House of the Future was to show guests what home life would be in the distant future of 1986. The all plastic house towered above the ground (at least it looked that way to a small little pixie) and had many interesting things in the home to make life easier.
This fun and informative "house"
was sponsored by Monsanto Company. The design and engineering of the house was done jointly by Monsanto, Massachusetts Institute of Technology, and Walt Disney Imagineering. The fiberglass components of the house were manufactured by Winner Manufacturing Company in Trenton, New Jersey, and was assembled into the house on-site.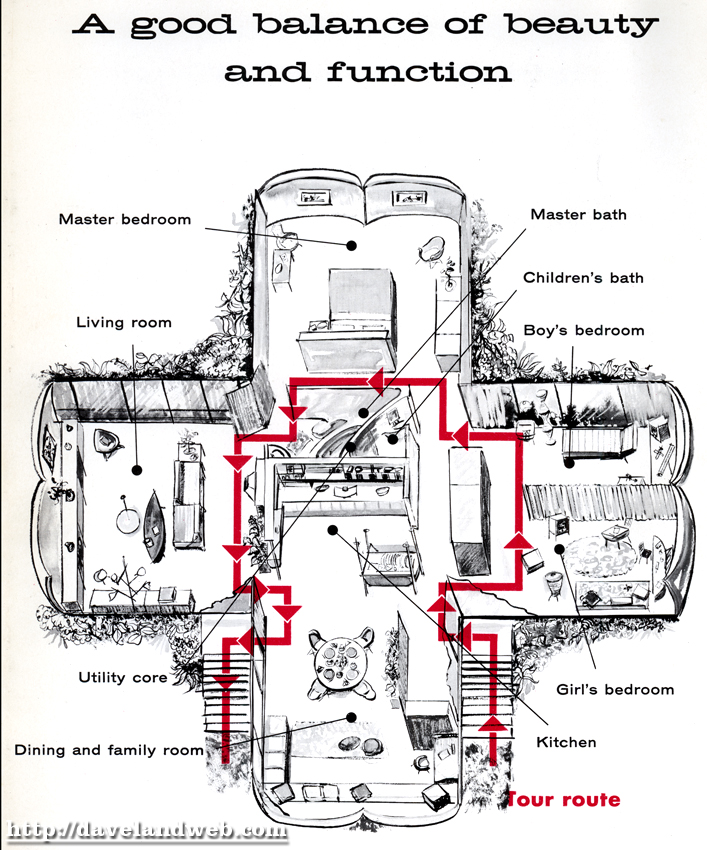 I remember seeing this crazy flying saucer shaped house up on its single pylon next to the Matterhorn Mountain several times as a young child. I thought the refrigerator that came up out of the counter was creative idea. There was also an amazing device that was said to be the next must have in the kitchen. I remember grandma and mom laughing at the claims that this device would heat and cook food in seconds instead of minutes and minutes instead of hours. Well the circular counter hidden frig never came to pass but the microwave oven is a modern kitchen must have.
In 1967 the decision was made to remove the hopeful example of life in 1986. The plan was to bring in a wrecking ball and swing until the house was gone. The ball came back swung down hard and bounced off the house with no appreciable damage! The house was finally demolished using choker chains to crush it into smaller pieces for removal. The
reinforced concrete foundation of the House of the Future was never removed. It currently exists in its original location, now found in the Pixie Hollow attraction. The foundation has been painted green and is currently in use as a planter.
There is still a House of the Future at Disneyland but it is NOT the Monsanto House of the Future. It is in Innoventions and does not have a "home". Instead it is an exhibit inside Innoventions that has half walls to make it feel like you are in a home. It has many current and nearly on the market devices that make life more interesting and fun. In fact I do suggest you stop on by and take a walk through and look at all the fun things that are or will soon be available to the general public. I love to stop and take a break in the boy's bedroom. With its bed shaped like a sailing ship of old the walls come alive during story time and interact with what the story and those listening as it is told.