Meet the Voice of Disney's Fourth Princess, Ariel the Little Mermaid
October 10th, 1961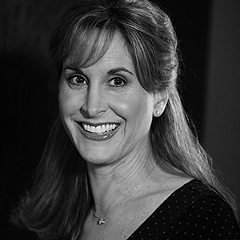 Jodi Marie Benson
(born Jodi Marie Marzorati on October 10, 1961) is an American actress, voice actress, soprano singer, and Disney Legend. She is best known for providing both the speaking and the singing voices of Disney's Princess Ariel in The Little Mermaid and its sequels. In 2002 and 2006, she reprised the role of Ariel in the English versions of the Kingdom Hearts series. Most recently Benson voiced the character Barbie in the 1999 movie Toy Story 2, the 2010 movie Toy Story 3 and the Toy Story Toon Hawaiian Vacation.
Benson was born Jodi Marie Marzorati in Rockford, Illinois. She attended Saint James Elementary and Middle School, Boylan Catholic High School, and Millikin University. She currently lives in Gainsville in North Georgia with her husband, Ray Benson (they have been married since May 19, 1984), and their son, McKinley (born January 1999), and daughter, Delaney (born June 2001).
Voice and Screen Acting
Benson has become well-known in popular culture for providing the voice of Ariel in The Little Mermaid. She even parodied this later when she provided the voice for the character of Ann Darro in The Mighty Kong - Ann sang and swam through the water with her hair flowing about her. She provided the voice for a character called Aquagirl in a two-part episode of Batman Beyond. She also provided the voice of the character of Tula in the Hanna-Barbera adventure-fantasy series, Pirates of Dark Water. In an interview with Christians in Cinema, Benson said that winning the role of Ariel was God-ordained. She has also said that her work for Disney is "not just a job, it is a gift that God has given me. It is my ministry." She has also said that she never gets tired of singing her signature song, "Part of Your World".
Benson has also done voice-overs in video games. She played Ariel again in the video games Kingdom Hearts and Kingdom Hearts II. She was also in Grandia II where she was the American voice actress for Millenia. From its premiere in 2005 to its end in 2008, Benson did voice work for the Emmy Award-winning Cartoon Network animated series, Camp Lazlo, as the characters Patsy Smiles, Scoutmistress Jane Doe, and Almondine the Owl. She also voiced Professor Owl in an Disney educational short film.
Benson played Cloe in The Save-Ums in 2007 and had a small role as "Sam" in Disney's Enchanted (Benson's only live-action role so far) as a tribute to Ariel. She provided the voice of Barbie in Toy Story 2 and Toy Story 3.
In non-Disney films, Benson was a voice actress for Don Bluth's version of Hans Christian Andersen's Thumbelina, voicing the title character. She performed many songs in this film, including a duet with Gary Imhoff in "Let Me Be Your Wings".
In the 1998 VHS edition of The Little Mermaid, Benson appeared as herself during the intro and before and after the previews, telling two CGI goldfish named Gil and Phil about then upcoming releases from Disney such as Pocahontas II: Journey to a New World, Mulan, Melody Time and Lady and the Tramp on video, A Bug's Life, and Disney's One Saturday Morning on ABC.
In June 2010, Benson re-recorded "Part of Your World" for The Little Mermaid segment for the World of Color night-time show at Disney California Adventure park. In an interview at the World of Color premiere, Benson confirmed that she will be lending her voice as Ariel for The Little Mermaid: Ariel's Undersea Adventure attraction at Disney California Adventure now opened in 2011 and Magic Kingdom due to open in 2012.
Benson was honored with a Disney Legend Award on August 19, 2011, for voicing Princess Ariel in The Little Mermaid movie series and Barbie in Toy Story series.
Musical Theatre
Benson's Broadway credits include a role in the short-lived Broadway musical Smile, where she introduced a song called "Disneyland". Howard Ashman, the lyricist of Smile, would go on to write the lyrics for The Little Mermaid. Benson also sings "Disneyland" on a compilation CD called Unsung Musicals. In 1989, Benson appeared in another short-lived musical, Welcome to the Club, alongside Samuel E. Wright, who performed the voice for Sebastian the Crab in The Little Mermaid.
In 1992, Benson received a Tony Award nomination for Best Actress in a Musical for her role as Polly Baker in Crazy For You. She played the narrator in Joseph And the Amazing Technicolor Dreamcoat in 1998.
Benson also played the Queen in a one night concert version of Rodgers & Hammerstein's Cinderella at the Nashville Symphony Orchestra in May 2010.
Nobody really wanted to do those types of jobs," Jodi Benson once said of her audition for The Little Mermaid (1989). "It wasn't a very prestigious job. My goal was to do Broadway musicals. Voice acting was something I didn't know anything about!"
She won the role of Ariel over at least 500 other actresses, and Jodi admits that when she watches the film, she can see herself in Ariel. "She's independent, spirited, and strong-willed. I don't think I could have accomplished my dreams if there wasn't a little of her in me."
Jodi grew up in Rockford, Illinois, and started singing at age 5. "I can't take any credit for the voice," she says, "it came with the package. I just started singing and it was there, and I've been singing ever since."
She attended Millikin University in Decatur, Illinois, where she abandoned a career in law to become one of the first students in the college's B.F.A. program in Musical Theatre. During Christmas break of her sophomore year, she auditioned for a Broadway show -- and won the job. She's been a perpetual presence on the Great White Way and on stages everywhere ever since.
She made her Broadway debut in Kenny Ortega's Marilyn: An American Fable (1983) and went on to star in the Howard Ashman/Marvin Hamlisch musical Smile (1986). It was in this show that she introduced a soaring tour de force ballad that has become well known to Disney fans, a song called simply "Disneyland." Jodi also appeared in A. E. Hotchner's and Cy Coleman's Welcome to the Club (1989) and sang George Gershwin classics in the lead role in Crazy for You (1992), which earned her a Tony Award nomination for Best Actress in a Musical.
In other roles, Jodi shared the stage with her husband, Ray Benson, in the European premiere of Gershwin's My One and Only. In Los Angeles, Jodi starred in Flora the Red Menace (Pasadena Playhouse), Oklahoma! (Dorothy Chandler Pavilion), My Fair Lady (Alex Theatre), and Chess (Long Beach Civic Light Opera), for which she was honored with the prestigious Drama-Logue Award for Best Actress.
She was the voice of Barbie in Disney-Pixar's Toy Story 2 (1999) and reprised the role with her boy beau, Ken, in last year's Toy Story 3. Other wildly varied voice roles for Disney include Helen of Troy in the Hercules television series and Weebo the flying robot in Flubber (both in 1997). Jodi made her live-action movie debut in Disney's Enchanted (2007), and moviegoers with keen ears noticed Ariel's "Part of Your World" playing in the background in Jodi's scenes.
But Jodi's heart remains "under the sea," and she has brought voice to everything that is The Little Mermaid, including CDs, toys, video games, talking dolls, a television series, and movie sequels. Jodi also spends her time giving back the gifts she is so grateful for, often teaching kids the various steps in the animation process -- and at these times is frequently reminded of the deeper significance of her work.
"I was talking to some third graders," Jodi once recalled. "At the end of a 45-minute presentation, a little boy raised his hand and asked, 'How do you hold your breath that long under water?' You see, the magic is what they want to hold onto -- and that brings me tremendous joy."
http://en.wikipedia.org
http://disney.go.com/disneyinsider/history/legends