Release Date June 9th, 2006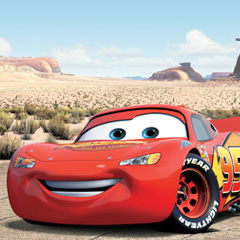 On his way to the Piston Cup, rookie race car Lightning McQueen hits an unexpected detour and ends up in the sleepy town of Radiator Springs. After causing major damage on the main road, Lightning is sentenced by the local judge to clean up the mess. Lightning slowly gets to know the locals and learns a life lesson from wise Doc Hudson: things are more important than speed. Once his work is complete, he leaves his new friend Mater, and the car-of-his-dreams, Sally, just in time to race in the Piston Cup. There, Lightning realizes that the fast lane doesn't always get you where you really want to go in life!
Cars
is a 2006 American computer-animated comedy-adventure film produced by Pixar and directed by John Lasseter and co-directed by Joe Ranft. It is the seventh Disney·Pixar feature film, and Pixar's final, independently-produced motion picture before its purchase by Disney. Set in a world populated entirely by anthropomorphic cars and other vehicles, it features voices by Owen Wilson, Larry the Cable Guy, Paul Newman (in his final non-documentary feature), Bonnie Hunt, Tony Shalhoub, Cheech Marin, Michael Wallis, George Carlin, Paul Dooley, Jenifer Lewis, Guido Quaroni, Michael Keaton, Katherine Helmond, and John Ratzenberger as well as voice cameos by several celebrities including Jeremy Piven, Jeremy Clarkson, Richard Petty, Dale Earnhardt, Jr., Bob Costas, Darrell Waltrip, Jay Leno, Michael Schumacher, Tom and Ray Magliozzi from NPR's Car Talk, and Mario Andretti. The film is also the second Pixar film—after A Bug's Life—to have an entirely non-human cast. The film was accompanied by the short One Man Band for its theatrical and home media releases.
Cars
premiered on May 26, 2006 at Lowe's Motor Speedway in Concord, North Carolina, and was released on June 9, 2006, to generally favorable reviews. It was nominated for two Academy Awards, including Best Animated Feature, and won the Golden Globe Award for Best Animated Feature Film. It was released on DVD November 7, 2006 and on Blu-ray Disc in late 2007. Related merchandise, including scale models of several of the cars, broke records for retail sales of merchandise based on a Disney·Pixar film, with an estimated $5 billion in sales.
A sequel, Cars 2, was released on June 24, 2011.
Plot
Cars
takes place in a world populated by anthropomorphic transportation. The film begins with the last race of the Piston Cup championship, which ends in a three-way tie between retiring veteran Strip "The King" Weathers, perennial runner-up Chick Hicks, and rookie Lightning McQueen. The tiebreaker race is scheduled for one week later at the Los Angeles International Speedway. Lightning is desperate to win the race, since it would allow him to leave the unglamorous sponsorship of Rust-Eze, a rust treatment for old cars, and allow him to take The King's place as the sponsored car of the lucrative Dinoco team. Eager to start practice in California as soon as possible, Lightning pushes his big rig, Mack, to travel all night long. While McQueen is sleeping, the exhausted Mack drifts off and is startled by a gang of reckless street racers, causing McQueen to fall out the back of the truck into the road. McQueen wakes in the middle of traffic, and speeds off the highway to find Mack, ending up in a run-down town of Radiator Springs and inadvertently ruining the pavement of its main road.
After being arrested and impounded overnight, McQueen is ordered by the town's judge and doctor, Doc Hudson, to leave town immediately. The local lawyer, Sally Carrera, insists that McQueen be given community service to repave the road, to which Doc begrudingly agrees. McQueen tries to repave it in a single day, but it turns out to be shoddy and McQueen is ordered to repave the road again, which takes several days to complete. During this time, he becomes friends with several of the cars, and learns that Radiator Springs used to be a popular stopover along U.S. Route 66, but with the construction of Interstate 40 bypassing the town, it was effectively taken off the map. McQueen also discovers that Doc is really the "Fabulous Hudson Hornet", a three-time Piston Cup winner who was forced out of racing after an accident and quickly forgotten by the sport. McQueen finishes the road, which has invigorated the cars to improve their town, and spends an extra day in town with his new friends, before Mack and the media descend on the town, led by a tip to McQueen's location. McQueen reluctantly leaves with the media to get to California in time for the race, while Sally chastises Doc after discovering that he had tipped off the media to McQueen's whereabouts, not wanting to be discovered himself instead.
At the speedway, McQueen's mind is not fully set on the race, and he soon falls into last place. He is surprised to discover that Doc Hudson, decked out in his old racing colors, has taken over as his crew chief, along with several other friends from Radiator Springs to help in the pit. Inspired and recalling tricks he learned from Doc and his friends, McQueen quickly emerges to lead the race into the final laps. Hicks, refusing to lose, sends Weathers into a dangerous accident. Seeing this and recalling Doc's fate, McQueen stops just short of the finish line, allowing Hicks to win, and drives back to push Weathers over the finish line. The crowd and media condemn Hicks' victory and give praise to McQueen's sportsmanship. Though offered the Dinoco sponsorship deal, McQueen declines, insisting on staying with his current sponsors as an appreciation of their past support. Later, back at Radiator Springs, McQueen returns and announces that he will be setting up his headquarters there, helping to put Radiator Springs back on the map.
After the credits, a small scene appears. Van and Minny, the two minivans who came to Radiator Springs, appear to have lost their way and are stranded in the middle of the desert, dusty and tired (due to Van's reliance on GPS navigation rather than standard maps, which Sally had offered him), and Van is seen to have gone insane and drive off as a "Beetle" fly crashes into the screen.
Cast
Owen Wilson as Lightning McQueen, described by John Lasseter in the LA Times as "A hybrid between a stock car and a more curvaceous Le Mans endurance racer."

Paul Newman as Doc Hudson, a 1951 Hudson Hornet, later revealed to be the Fabulous Hudson Hornet.

Bonnie Hunt as Sally Carrera, a 2002 996-series Porsche 911 Carrera.

Larry the Cable Guy as Mater, a 1951 International Harvester L-170 "boom" truck with elements of a mid-1950s Chevrolet. One-Ton Wrecker Tow Truck.

Tony Shalhoub as Luigi, a 1959 Fiat 500. *

Michael Wallis as Sheriff, a 1949 Mercury Club Coupe (police package).

George Carlin as Fillmore, a 1960 VW Bus.

Jenifer Lewis as Flo, a 1957

Motorama

show car.
Guido Quaroni as Guido, a custom forklift, resembling an

Isetta

at the front.

Richard Petty as Strip "The King" Weathers. The car's design was based on Richard Petty's 1970 Plymouth Superbird

Michael Keaton as Chick Hicks, described by Pixar as a generic 1980s stock car. Strongly resembles a 1978–88 General Motors G-Body such as a Buick Regal or Chevrolet Monte Carlo.

Katherine Helmond as Lizzie, a 1923 Ford Model T.

John Ratzenberger as Mack, a 1985 Mack Super-Liner.

Joe Ranft as Red, a 1960s style fire truck (most closely resembles a mid-1960s), this was Ranft's last voice role before his death in August 2005.
Production
Cars
is the last film worked on by Joe Ranft, who died in a car accident in 2005. The film was the second to be dedicated to his memory, after Corpse Bride. This is also the last (non-documentary) movie for Paul Newman before his retirement in 2007 and his death in 2008. It turned out to be the highest-grossing film of his career.
Development
The original script (called The Yellow Car, about an electric car living in a gas-guzzling world), some of the original drawings and characters were produced in 1998 and the producers agreed that Cars could be the next movie after A Bug's Life and would be released in early 1999, particularly around June 4. However, the movie was eventually scrapped in favor of Toy Story 2. Later, production resumed with major script changes, like giving mater, doc and a few other characters a bigger part.
John Lasseter has said that the idea for Cars was born after he took a cross-country road trip with his wife and five sons in 2000. When he returned to the studio after vacation, he contacted Michael Wallis, a Route 66 historian. Wallis then led eleven Pixar animators in rented white Cadillacs on two different road trips across the route to research the film.
In 2001, the movie's working title was Route 66 (after U.S. Route 66), but in 2002, the title was changed to prevent people from thinking it was related to the 1960 television show with the same name. In addition, Lightning McQueen's number was originally going to be 57 (Lasseter's birth year), but was changed to 95 (the year Toy Story was released).
Animation
For the cars themselves, Lasseter also visited the design studios of the Big Three Detroit automakers, particularly J Mays of Ford Motor Company. Lasseter learned how real cars were designed.
Unlike most anthropomorphic cars, the eyes of the cars in this film were placed on the windshield (which resembles the Tonka Talking Trucks, and the characters from Tex Avery's One Cab's Family short and Disney's own Susie the Little Blue Coupe), rather than within the headlights. According to production designer Bob Pauley, "From the very beginning of this project, John Lasseter had it in his mind to have the eyes be in the windshield. For one thing, it separates our characters from the more common approach where you have little cartoon eyes in the headlights. For another, he thought that having the eyes down near the mouth at the front end of the car feels more like a snake. With the eyes set in the windshield, the point of view is more human-like, and made it feel like the whole car could be involved in the animation of the character. This decision was heavily criticized by automotive blog

Jalopnik

. The characters also use their tires as hands and feet, the exceptions being the various tow truck characters that sometimes use their tow hooks, and the various forklift characters, which use their forks. Some cars are shown shuffling sideways by moving their wheels about on their suspensions.
Computers used in the development of the film were four times faster than those used in The Incredibles and 1,000 times faster than those used in Toy Story. To build the cars, the animators used computer platforms very similar to those used in the design of real-world automobiles.
Settings
The track on which the opening race (Motor Speedway of the South) takes place is based on an enlarged version of Bristol Motor Speedway. The venue for the Piston Cup tiebreaker race (the Los Angeles International Speedway) is a conglomeration of the Los Angeles Memorial Coliseum, the Arroyo Seco in Pasadena where the Rose Bowl is located, as well as the Auto Club Speedway in Fontana. The Scoring Pylon (showing numbers 43, 86, and 95) is taken from the Indianapolis Motor Speedway.
The sign "City of Emeryville – Closed for the race" is a nod to Pixar's headquarters in Emeryville, California in the San Francisco Bay Area.
Radiator Springs and vicinity
The setting for the fictional town of Radiator Springs is situated between Gallup, New Mexico and the Sonoran Desert in California. However, the physical location of Radiator Springs in relation to I-40 is similar to that of Peach Springs, Arizona.
Lasseter told film critic Joe Williams of the St. Louis Post-Dispatch that much of the story is based on the recollections of barber Angel Delgadillo in the Route 66 town of Seligman, Arizona, where business withered soon after the opening of I-40.
Willy's Butte resembles the landmark of Mexican Hat, Utah, but also resembles a classic Pontiac hood ornament.
There is an "Ornament Valley" (a reference to Monument Valley).
The epilogue shows a map of the area of Arizona around Radiator Springs, including car-related place names such as "Carburetor County" and "Cadillac Range". The latter is a large north-to-south mountain range with many fin-backed jagged peaks, a reference to the famous Cadillac Ranch sculpture in Amarillo, Texas. Where the main road crosses the Cadillac Range is marked "Tailfin Pass 5942" (i.e. feet altitude, = 1.8111 kilometers).
Lizzie's Curio Shop in Radiator Springs resembles the crazy Route 66 jumble of memorabilia and knick-knacks at Hackberry General Store in Hackberry, Arizona and the Sand Hills Curiosity Shop, aka the City Meat Market building in Erick, Oklahoma.
The bridge that McQueen sees Sally driving on resembles several bridges on Route 66, including the Cyrus Avery Route 66 Memorial Bridge in Tulsa, the Colorado Street Bridge in Pasadena, California, and the now-closed bridge over Diablo Canyon at Two Guns, Arizona.
Flo's V8 cafe is designed to look like a V8 engine head on, with a circular air filter, tappet covers, spark plugs, pistons and connecting rods as the supports for the shelter. The blinking neon lights on the spark plugs blink in the firing order of a Ford flathead V8.
The railroad grade crossing at which Lightning McQueen outruns a passenger train on his way to Radiator Springs is protected by a pair of antique "upper-quadrant" wigwag crossing signals which accurately depict those once made by the Magnetic Signal Company in both appearance and start-up. Few are left in actual operation in the United States, and many have been replaced with modern crossing gates, red lights and bells.
Continuity
During the closing credits, the characters are at a drive-in watching clips of the Pixar films "Toy Car Story" (Toy Story), "Monster Trucks, Inc." (Monsters, Inc.) and A Bug's Life, whose characters have been rendered as vehicles in the style of Cars.
There are a few sights of the front page of a newspaper named The Daily Exhaust.
Route 66
Many characters and places in the movie are directly inspired by real Route 66 places and people.
"As we traveled on Route 66, we were privileged to visit many places and to meet a number of people who live and work alongside 'The Mother Road'. The following is a list of the places and people we wanted to honor by including their names in our 'Special Thanks' credits at the end of the film.
Among the many references to Route 66 landmarks and personalities:
The Cozy Cone Motel's design is based on the two Wigwam Motels along Route 66, in Holbrook, Arizona and Rialto, California. These were once two out of seven built motels, with individual cabins shaped like teepees. Three Wigwam Motels remain; the third (and oldest) is in Cave City, Kentucky, far from Route 66. The recently restored Tee Pee Motel in Wharton, Texas, south of Houston, is of similar design but unrelated. The name "Cozy Cone" was inspired by the Cozy Dog Drive-In of Springfield, Illinois, which lays claim to being birthplace of the corn dog.

The character "Fillmore", referring to the famous San Francisco music venue The Fillmore, was at one time to be named "Waldmire" after Bob Waldmire, a self-proclaimed hippie artist known to Rt. 66 fans for his detailed pen-and-ink maps and postcards of the route. Though Waldmire's family owns the Cozy Dog Drive-In, Bob, having since become a vegan, preferred not to see his name put on a character that would become a McDonald's Happy Meal toy.

Ramone's House of Body Art is based primarily on the U-Drop Inn in Shamrock, Texas. It opened in 1936 as Tower Conoco (from its distinctive Art Deco spire) with the U-Drop Inn Cafe and a retail building attached. Many other establishments built along Route 66 in its heyday had Art Deco elements that might be reflected in the design of Ramone's.

The yellow billboard for Lizzie's Curio Shop reading "HERE IT IS" with an image of a Model T is based on the Jack Rabbit Trading Post signage in Joseph City, Arizona.

Sheriff is voiced by Michael Wallis, an American historian and author of Route 66: The Mother Road.
Cameo
The group of small birds from the 2000 Pixar short film For the Birds made a cameo appearance in Cars. As Mack is en route to California at 17:44 in the film, the group of small birds can briefly be seen (and heard) sitting on their familiar telephone wire. In addition, the Pizza Planet truck from Toy Story also makes a cameo outside of the race track, at the final race in the movie.
Soundtrack
The Cars soundtrack was released by Walt Disney Records on June 6, 2006. Nine tracks on the soundtrack are by popular artists, while the remaining eleven are score cues by Randy Newman. It has two versions of the classic Bobby Troup jazz standard "Route 66" (popularized by Nat King Cole), one by Chuck Berry and a new version recorded specifically for the film's credits performed by John Mayer. Brad Paisley contributed two of the nine tracks to the album, one being "Find Yourself" used for the end credits.
Release
Cars
was originally going to be released on November 4, 2005, but on December 7, 2004 the movie's release date was changed to June 9, 2006. Analysts looked at the release date change as a sign from Pixar that they were preparing for the pending end of the Disney distribution contract by either preparing non-Disney materials to present to other studios, or they were buying time to see what happened with Michael Eisner's situation at Disney. When Jobs made the release date announcement, he stated that the reasoning was due to wanting to put all Pixar films on a Summer release schedule, with DVD sales occurring during the holiday shopping season.
Critical reception
Cars
opened on June 9, 2006 to generally positive reviews. William Arnold of the Seattle Post-Intelligencer praised it as "one of Pixar's most imaginative and thoroughly appealing movies ever" and Lisa Schwarzbaum of Entertainment Weekly called it "a work of American art as classic as it is modern."
Some critics expressed that Cars did not hold up to the standard of other Pixar films due to its lengthy story, especially after the acclaim received by The Incredibles, Pixar's previous film. "The movie is great to look at and a lot of fun," wrote critic Roger Ebert, "but somehow lacks the extra push of the other Pixar films." Laura Clifford of website Reeling Reviews wrote that the film's "only real drawback is its failure to inspire awe with its visuals and to thoroughly transport with its storytelling.
Rotten Tomatoes gave Cars a fresh 74% (with an average of 6.9), yet no other Pixar film, until the releases of Brave and Cars 2, has ever scored less than 92% (Brave has a score of 76%, whereas Cars 2 ranked 38%, the lowest ever attributed to a Pixar film) Despite this, it still received a "Certified Fresh" rating. It earned a 73/100 on Metacritic, making it the third lowest ranked Pixar film on that site.
Box office
In its opening weekend, Cars earned $60,119,509 in 3,985 theaters in the United States, ranking number one at the box office. In the United States, the film held onto the No.1 spot for two weeks before being surpassed by Click and then by Superman Returns the following weekend. It went on to gross $461,981,604 worldwide (ranking number 6 in 2006 films) and $244,082,982 in the United States (the third highest-grossing film of 2006 in the country, behind Pirates of the Caribbean: Dead Man's Chest and Night at the Museum). It was the highest-grossing animated film of 2006 in the United States, but lost to Ice Age: The Meltdown in worldwide totals.
Awards
Cars
had a highly successful run during the 2006 awards season. Many film critic associations such as the Broadcast Film Critics Association and the National Board of Review named it the best Animated Feature Film of 2006. Cars also received the title of Best Reviewed Animated Feature of 2006 from Rotten Tomatoes. Randy Newman and James Taylor received a Grammy Award for the song "Our Town," which later went on to be nominated for the Academy Award for Best Original Song (an award it lost to "I Need to Wake Up" from An Inconvenient Truth). The film also earned an Oscar nomination for Best Animated Feature, but it lost to Happy Feet. Cars was also selected as the Favorite Family Movie at the 33rd People's Choice Awards. Perhaps the most prestigious award that Cars received was the inaugural Golden Globe Award for Best Animated Feature Film. Cars also won the highest award for animation in 2006, the Best Animated Feature Annie Award.
The film was also nominated for AFI's 10 Top 10 in the "Animation" genre.
Home media release
Cars
was released on DVD in both wide-screen and full-screen editions on October 25, 2006 in Australia and New Zealand, on November 7, 2006 in the United States and Canada, and on November 27, 2006 in the United Kingdom. It includes DVD-exclusive short film Mater and the Ghostlight and the film's theatrical short One Man Band, as well as Inspiration for Cars, a 16 minute long documentary about Cars featuring John Lasseter, the director. It also had a version of the Pixar short

Boundin'

as an Easter Egg.
According to the Walt Disney Company, five million copies of the DVD were sold in the first two days it was available. In its first week it sold 6,250,856 units and 15,370,791 units in total ($246,198,859).
Unlike previous Pixar DVD releases, there is no two-disc special edition, and no plans to release one in the future. According to Sara Maher, DVD Production Manager at Pixar, John Lasseter and Pixar were preoccupied with productions like Ratatouille. Additional extras not seen on the DVD have since been released on the official DVD website.
In the US and Canada, there were bonus discs available with the purchase of Cars at Wal-Mart and Target. Wal-Mart featured a Geared-Up Bonus DVD Disc that focused on the music of the film, including the "Life Is A Highway" video, The Making of "Life Is A Highway", Cars: The Making of the Music, and Under The Hood (a special that originally aired on the ABC Family cable channel). Target's bonus was a Rev'd Up DVD Disc that featured material that was mostly already released as part of the official Cars podcast and focused on the inspiration and production of the movie.
Cars
was also released on Blu-ray Disc on November 6, 2007.
Similar films
Marcus Aurelius Canônico of Folha de S. Paulo described The Little Cars series (Os Carrinhos in Portuguese), a Brazilian computer graphics film series, as a derivative of Cars. Canônico discussed whether lawsuits from Pixar would appear. The Brazilian Ministry of Culture posted Marcus Aurelius Canônico's article on its website.
It has also been noted that the plot of Cars bears a striking resemblance to that of Doc Hollywood, the 1991 romantic comedy which stars Michael J. Fox as a hotshot young doctor, who, after causing a traffic accident in a small town, is sentenced to work at the town hospital, falls in love with a local law student and eventually acquires an appreciation for small town values.
Spin-off movie
A direct-to-video computer animated Cars spin-off titled Planes is in production at DisneyToon Studios for a Spring 2013 release.