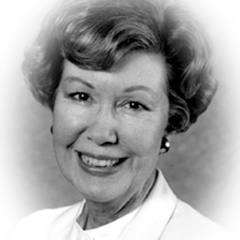 As the first woman ever hired by Walt Disney Imagineering in a creative rather than an office capacity, Harriet Burns helped design and build prototypes for theme park attractions, as well as final products featured at Disneyland and the New York World's Fair of 1964. And while she worked padded-shoulder to shoulder with men in the model shop, wielding saws, lathes and sanders, she was still the best-dressed employee in the department.
"It was the 1950s," she explained. "I wore color-coordinated dresses, high heels and gloves to work. Girls didn't wear slacks back then, although I carried a pair in a little sack, just in case I had to climb into high places."
Born August 20, 1928, in San Antonio, Texas, Harriet received her Bachelor's Degree in Art from Southern Methodist University in Dallas, and went on to study advanced design for another year at the University of New Mexico in Albuquerque.
In 1953, she moved to Los Angeles with her husband and small daughter. There, she accepted a part-time position at Dice Display Industries Cooperative Exchange, where she helped design and produce props for television's "Colgate Comedy Hour" along with interiors and sets for Las Vegas Hotels, including the Dunes. Adept at her work, she was asked to spearhead the creation of the fanciful Southern California tourist destination Santa's Village located near Lake Arrowhead.
When Dice went out of business in 1955, a co-employee who had once worked at Disney, beat tracks back to the Studio and invited Harriet to come along. Subsequently, she was hired to paint sets and props for the new Mickey Mouse Club television show. Harriet soon began coordinating the show's color styling and even designed and built the famous "Mouse Clubhouse."
Her appearance caused her to stand out on the set, as she dressed in high heels and a skirt to work with the hardware and tools, such as the drill press and sanders.
Burns shared a workstation at the Disney Studio with a fellow Disney employee named Fred Joerger. Joerger was a model builder for WED Enterprises, which is now known as Walt Disney Imagineering. He was working on prototype models for the future Disneyland theme park. In addition to her job as a set builder, Burns began working with Joerger in Disney's model shop building miniature prototypes of Disneyland buildings and attractions. WED Enterprises originally consisted of just three members — Harriet Burns, Fred Joerger and Wathel Rogers — and became known as the WED Model Shop. WED Enterprises was eventually renamed to Walt Disney Imagineering, which alluded to the engineering and imagination needed to design Disney theme park attractions.
Burns contributed greatly to the development of Disneyland at WED Enterprises by creating both miniature models and actual theme park attractions. One of Burns's first assignments was to craft a model of Sleeping Beauty Castle, a Disneyland landmark which opened with the theme park on July 17, 1955. She continued to work on Disneyland expansions after the park's grand opening. Burns designed models of the Matterhorn bobsleds attraction as a 1/100th scale replica of the famous Matterhorn in Switzerland.
Among other contributions, Harriet worked on everything from figure finishing to stage design for attractions featured at the New York World's Fair in 1964, including Great Moments with Mr. Lincoln and The Carousel of Progress. On occasion, when Walt would introduce new theme park attractions to television audiences, she would appear on segments of "Walt Disney's Wonderful World of Color."
Harriet Burns died in Los Angeles on July 25, 2008, at the age of 79. She was a resident of Santa Barbara, California where she had been active in the arts and music community.
http://disney.go.com/disneyinsider/history/legends