Disneyland's Flying Saucers
As a young child growing up in Southern California I had the pleasure of going to Disneyland

at least once a year. Over the years I've seen many rides come and go. Starting back in 1980 I started to talk to other people about rides I enjoyed as a child that were no longer there. Here is one that people told me did not exist for years. I remember riding it and laughing as my mother and I tried to bump into my brothers as we shot around. Over the years I searched for proof and found it. Here is a little bit of information about the ride.
Welcome to one of the most interesting uses of space-age technology ever employed by a theme park.
Guests rode in personal flying saucers on a cushion of air, similar to an air hockey game, which played in a way similar to bumper cars, with guests ramming each other with their saucers.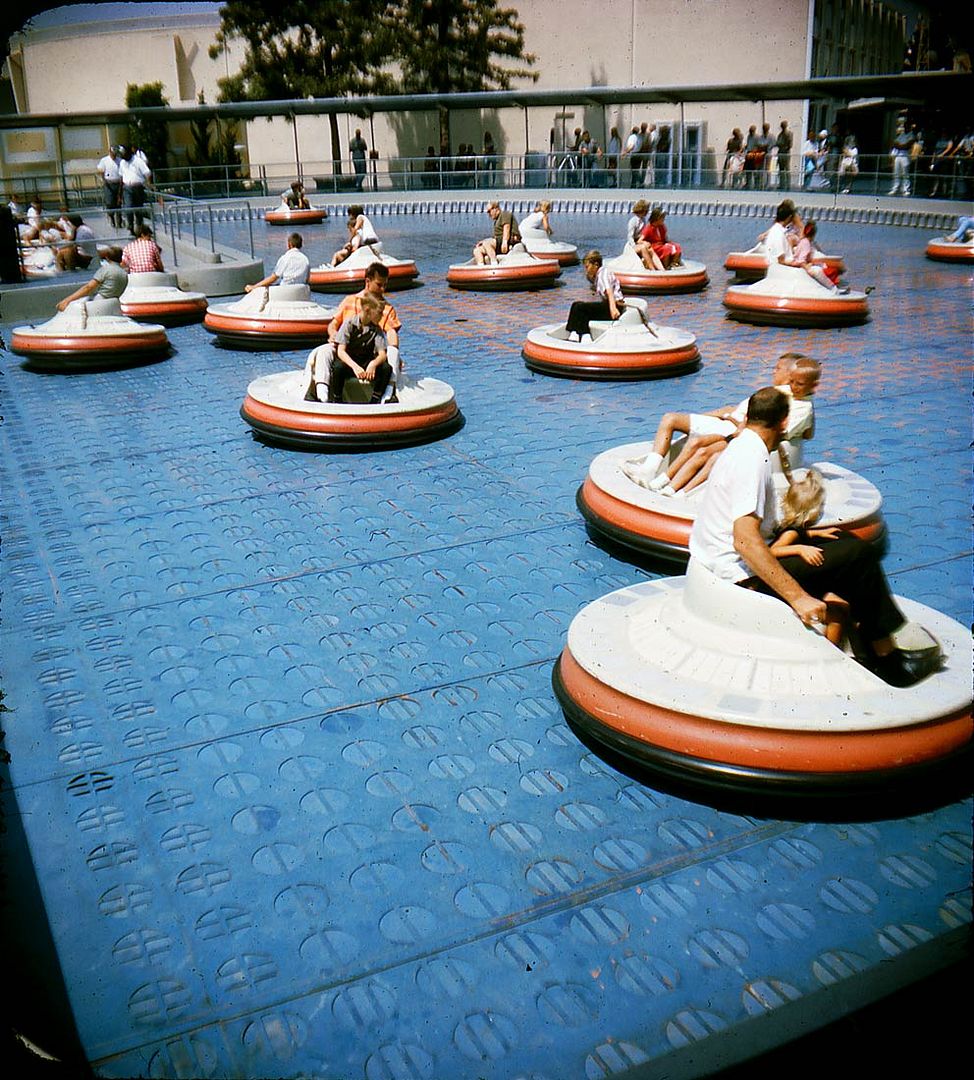 `1.

Sit down on your individual Flying Saucer.
2.

Hold on to the rounded handles on either side of your seat.
3.

As the ride cycle begins, air valves directly below your Saucer lift it up.
4.

Tile your body to make your Saucer scoot across the floor, actuating air valves as you pass over them.
5.

Bump into other guests—surprise them from behind.
When your ride cycle ends, a giant arm pushes you back into the loading area.
The "table" was a large metal floor. As the ride began, large round plates would lower and air would blast from underneath the table, pushing each saucer upward so that it was floating just above the table. Guests would control the saucers by shifting their weight from side to side.
The ride was expensive to operate, maintenance was intensive, and it did not fit the normal Disneyland "guest flow" – a relatively small number of riders were able to participate in any given day. The flying saucers did not survive the transition to New Tomorrowland.
The Flying Saucers opened at Disneyland in 1961 and closed just five years later. When the New Tomorrowland was opened in 1967. The space previously occupied by the Flying Saucers became the Tomorrowland State. In 1966 this space became the Magic Eye Theater.
It will be interesting to see if the problems with the Flying Saucers have been conquered.

When the new Cars Land opens next year there will be a ride that is basically the same except it will be themed after Cars and be called
Luigi's Flying Tires. I look forward to riding them when they open.