December 13th, 1925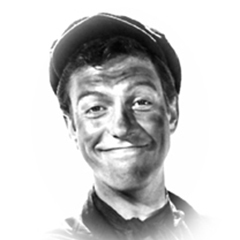 One of Hollywood's most beloved stars is Dick Van Dyke, whom Disney fans best remember as Bert, the Chimney Sweep, in the Academy Award-winning feature "Mary Poppins." Many would agree with Vice Chairman, Roy E. Disney, who once said, "Every time I see 'Mary Poppins,' I'm amazed at how Dick's brilliant performance effortlessly ties this film together. After all, it is Dick who first welcomes us to Number 17 Cherry Tree Lane. It is his chalk pavement picture that provides entry into one of the great fantasy sequences of all time. And, it is Dick who bids Mary Poppins goodbye at the end of the movie."
According to Dick, Walt Disney did not hire him to play Bert because of his singing and dancing. Dick said Walt told his staff, "I saw in an interview that young man says there needs to be for family entertainment. I want him for Mary Poppins." (Dick said this at the recent D23 Expo.)
Born on December 13, 1925, in West Plains, Missouri, Dick was inspired to become an actor by the hilarious performances of Stan Laurel in the Laurel and Hardy comedies he watched at a local theater, as a boy growing up in the Midwest. When Dick came to California to try to get into the acting business he decided to look up Stan Laurel in the local white pages and was surprised to find him listed. Dick just walked up to his door and knocked and Mr. Laurel invited him in and their lasting friendship started. They spent many hours talking about comedy and timing. Mr. Laurel shared many found memories of Mr. Hardy with Dick. Dick wrote the forward to a book called, "Mr. Laurel and Mr. Hardy, an Affectionate Biography."
Years later, after serving in the Air Force during World War II, he and a friend formed a pantomime act, "The Merry Mutes," and performed in nightclubs across the country. When he landed in Atlanta, Georgia, Dick broke into local television, which soon led to guest appearances on variety shows, such as those starring Ed Sullivan, Dinah Shore, and Jack Paar.
Even though he had never taken a singing or dancing lesson, in 1959, he won his first Broadway role in "The Boys Against the Girls," starring Bert Lahr. The following year, he landed the lead role in the musical comedy "Bye Bye Birdie," for which he won a prestigious Tony Award, and later, repeated his successful stage role in the Hollywood film version.
In 1961, Dick was cast as comedy writer Rob Petrie in the hit series "The Dick Van Dyke Show," for which he won TV's Emmy Award three consecutive years (1964-66). About this same time, Walt Disney approached him about playing Bert in "Mary Poppins." After reading the script, however, Dick not only wanted to play Bert, but the fearsome chairman of the bank who dies laughing.
He recalled, "I saw the part of the old banker and thought, 'Oh, I'd love to be that character too!'" The directors disagreed and said he was too young. Dick tried out for the part and was so funny they decided to give the part to him as well.
Dick went on to make Disney's "Lt. Robin Crusoe, U.S.N." and "Never A Dull Moment," co-starring Edward G. Robinson. He also played Ken in the Studio's hit TV series, "The Golden Girls," and D.A. Fletcher in its 1990 feature, "Dick Tracy," starring Warren Beatty.
Among his numerous non-Disney film credits are "The Comic" and "Chitty Chitty Bang Bang." In 1993, Dick Van Dyke returned to television to star as Dr. Mark Sloan in the lasting television series "Diagnosis Murder."
Other projects
Van Dyke received a Grammy Award for his performance on the soundtrack to Mary Poppins. In 1970 he published Faith, Hope and Hilarity: A Child's Eye View of Religion a book of humorous anecdotes based largely on his experiences as a Sunday School teacher. Van Dyke was principal in "KXIV Inc." and owned 1400 AM KXIV in Phoenix (later KSUN) from 1965 to 1985. KXIV was at one time an applicant for an FM station in the same area.
As an a cappella enthusiast, Van Dyke has sung in a group called "The Vantastix" since September 2000. The quartet has performed several times in Los Angeles as well as on Larry King Live, The First Annual TV Land Awards, and sung the national anthem at three Los Angeles lakers games including a nationally televised NBA Finals performance on NBC. Van Dyke was made an honorary member of the Barbershop Harmony Society in 1999.
The Vantastix also performed at the recent D23 Expo in Anaheim, Ca to a crowd of adoring fans. Dick still dances and can carry a hour long show. He was a total joy to watch. They have an album called "Put on a Happy Face."
Van Dyke became a computer animation enthusiast after purchasing a Cammodore Amiga in 1991. He is credited with the creation of 3D-rendered effects used on Diagnosis: Murder and The Dick Van Dyke Show Revisited. Van Dyke has displayed his computer-generated imagery work at SIGGRAPH, and continues to work with LightWave 3D. In 2010, Van Dyke appeared on a children's album titled Rhythm Train, with Red Hot Chili Peppers drummer Chad Smith and singer Leslie Bixler. Van Dyke raps on one of the album's tracks.
disney.go.com/disneyinsider/history/legends