Disney Legend and One of Walt's Nine Old Men
September 5th, 1912 ~ September 8th, 2004
Born on September 5, 1913, Frank was raised in Fresno, California, where his father was President of Fresno State College. By the age of nine, Frank already knew what he wanted to do in life; he once recalled asking his father how he could make money just drawing pictures. By the time he was a sophomore at Fresno State, his interest in art expanded into motion pictures. As a class project, Frank wrote and directed a movie that spoofed college life, which played in local theaters.
After finishing his education at Stanford University, Frank went on to study at Chouinard Art Institute in Los Angeles. While living in a rooming house in Hollywood, he met another young Stanford graduate, who worked as an artist at The Walt Disney Studios. The artist told Frank about a job opening and on September 24, 1934, he joined Disney as employee no. 224 assigned to work on the short "Mickey's Elephant."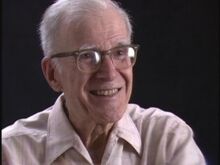 Over the years, Frank worked on nearly 20 animated features including, "Pinocchio," "Peter Pan," "Sleeping Beauty," "Cinderella," "The Jungle Book," and "101 Dalmatians," as well as numerous shorts. He also accompanied Walt Disney and a select group of artists on a goodwill tour through South America, in 1941, on behalf of the American Government, which inspired the animated features "Saludos Amigos" and "The Three Caballeros."
In his spare time, Frank played piano with the internationally famous "Firehouse Five Plus Two" jazz band, along with fellow Disney artists, including Ward Kimball.
Animator Frank Thomas instilled vivid personality into his Disney animated characters. Some of the most memorable, as well as touching moments on screen, were animated by Frank, including the dwarfs crying at Snow White's bier, Bambi and Thumper learning how to ice skate and the charming spaghetti-eating sequence in "Lady and the Tramp."
To Frank, personality was always the key to successful animation. As he once said, "Until a character becomes a personality, it cannot be believed. Without personality, the character may do funny or interesting things, but unless people are able to identify themselves with the character, its actions will seem unreal [to them]."
Thomas's last appearance in an animated film before his death was in The Incredibles (directed by Brad Bird), although he voiced a character, rather than animating one. Frank and his friend and colleague Ollie Johnston voiced and were caricatured as two old men saying "That's old school..." "Yeah, no school like the old school." The pair had previously been heard, and caricatured, as the two train engineers in Bird's The Iron Giant. Frank Thomas died in Flintridge, California at age 92.
Thomas co-authored, with fellow Disney legend Ollie Johnston, the comprehensive book Disney Animation: The Illusion of Life, first published by Abbeville Press in 1981. Regarded as the definitive resource book on traditional hand-drawn character animation (particularly in the Disney style), the book has been republished numerous times, and is widely considered "the bible" among character animators. The book summarized the Disney approach to animation through the so-called 12 basic principles of animation.
disney.go.com/disneyinsider/history/legends