Billy Hill and the Hill Billies
If you like musical comedy check out Billy Hill and the Hill Billies at Disneyland's Golden Horseshoe in Frontierland. This is a "brother act" with four brothers all named "Billy". They do some blue grass and often break into some Rock N Roll while making you laugh. Not only can you stop in for a fun show you can give your feet a break, cool off in the A/C and/or grab a snack or lunch at the "bar".
My parents use to drive to Disneyland two or three times a week just to have lunch at the Golden Horseshoe and watch the Billies make some music and laughs. This was a great joy for my dad in particular who had many health issues and went to Disneyland to find a reason to keep on living. The Billies were a huge part in what brought him joy and gave him a reason to get up and out of the house. We would often join them. We believe this kept him alive a few extra years.
The fun of this show is joining in. Clap your hands and stomp your feet and sing along. They often call people up on stage to "help out". Don't hesitate and let them pull you in. They may ask you to join them on stage and play a fiddle or do a little dance. It is all part of the Disney fun.
There is another way to join the fun. If you have seen the show before you can anticipate their jokes and respond to them as they happen. Let me give you an example. During the show they often play the Orange Blossom Special. During the song it sounds like a train is coming. At the climax of the song the group turns to stage right quickly as if the train just went past them and they were following it. If you get to the show early enough you can sit in a booth on stage right. (This was Walt's favorite place to sit and watch Wally Boag perform.) We have had fun jumping off our seats when the group turns toward us as if dodging the train.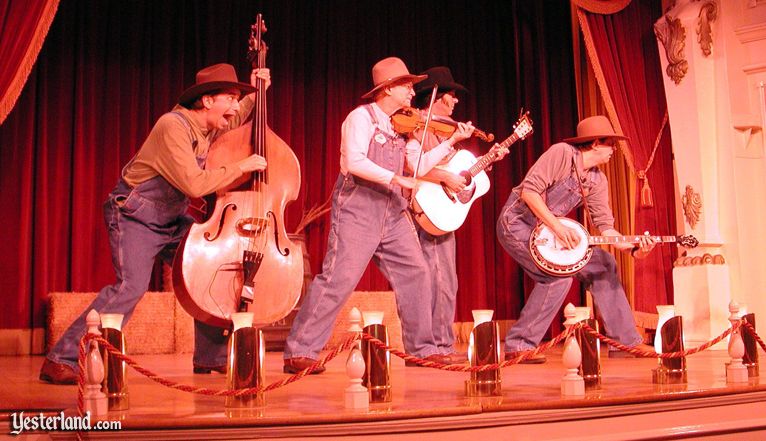 Don't be afraid to do things like this. The performers at Disneyland love it when you play with them. You are not detracting from the act you are adding to it by playing along with their illusion. You make other guests think twice and give the performers an extra hand in entertaining.
All of the performers in this act are accomplished musicians that can play multiple instruments. During the show you will see the fiddle played and hear everything from classical to Rock N Roll. The other instruments change with the performers. You may see a banjo, mandolin, base and guitars in quick succession.
In my opinion this is not a show to miss. There is something for everybody in this show and even the teenagers will find something to enjoy about it.