Release Date November 18th, 1988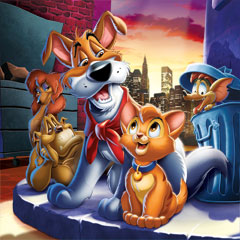 Oliver, a feisty young cat, explores New York in this thrilling animated classic cleverly based on Charles Dickens' timeless story, OLIVER TWIST -- featuring unforgettable songs performed by musical greats Billy Joel, Huey Lewis and Bette Midler! Joined by a pack of hilarious characters -- dogs Dodger, Tito and their pals -- Oliver knows he's found a lifelong friend and a real home.
Oliver & Company
is a 1988 American animated film in which a homeless kitten named Oliver joins a gang of dogs to survive on the 1980s New York City streets. The film was produced by Walt Disney Feature Animation and became the twenty-seventh animated feature released in the Walt Disney Animated Classics series. It was distributed by Walt Disney Pictures and Buena Vista Distribution. It was re-released in the USA, Canada, and the UK on March 29, 1996. It was then released to video later that same year, and again in 2002 and 2009 on DVD.
The film is inspired by Charles Dickens' novel Oliver Twist, which has been adapted many other times for the screen. In this version, Oliver is a cat, Fagin's gang is made up of dogs (one of which is Dodger), and Sikes is a loan shark. After Dumbo (1941),

Bambi (1942), One Hundred and One Dalmations (1961), and The Rescuers (1977), this is Disney's sixth animated feature to take place in the present day of its release, with New York City as the setting.
PLOT
The film is set in 1980s New York City. An orphaned kitten named Oliver is left alone after his fellow orphaned kittens are adopted by passersby and he wanders the streets by himself. The next day, he is tricked into assisting a laid-back dog named Dodger into stealing food from a hot dog vendor. Dodger then flees the scene without sharing his bounty with Oliver and returns to his owner's barge. Oliver follows Dodger and meets the rest of Dodger's group: Energetic Chihuahua Tito, dim-witted Great Dane Einstein, sassy Saluki Rita, and Francis, a Shakespearean bulldog. After a moment of confusion, Oliver is then received with a warm welcome. Fagin, the dogs' owner and a pickpocket arrives and is confronted by loan shark Sykes to whom he owes a large sum of money. Sykes' Dobermans Roscoe and DeSoto attack Oliver but the cat is defended by Fagin's dogs. Sykes says that Fagin has three days to pay back the money he owes or his home will be destroyed.
Fagin and his pets, now including Oliver, hit the streets to sell some shoddy goods and perhaps steal money. Oliver and Tito attempt to break down a limousine but the plan backfires when Oliver accidentally slipping on the ignition key and falling over the dashboard and Tito being electrocuted by the cars' wires, causing the car's electrical system to go haywire, and Oliver is caught and taken home by the limousine's passenger Jenny Foxworth and her butler Winston. Jenny's parents, being rich, are away traveling the world and she adopts Oliver out of loneliness. Georgette, the family's pompous and pampered poodle is enraged and jealous by Oliver's presence that she wants him removed. Dodger and the others manage to locate Oliver, and with help from Georgette they remove him from the house. Oliver later explains that he was treated kindly and did not want to leave, much to the shock of Dodger who felt that Oliver was ungrateful, but allows him the opportunity to leave. However, Fagin arrives, having surrendered to his fate, happened to have held Oliver who was about to leave. Fagin then discovers Oliver has been taken care of by a "very rich" owner from Fifth Avenue, and attempts to ransom Oliver so he would finally pay back Sykes, whom he later informs of his plan. Meanwhile, Jenny discovers Fagin's ransom note, and attempts to meet Fagin's demands, escorted by Georgette. Jenny then meets with Fagin, initially oblivious that he had ransomed Oliver. Fagin, bothered by his conscience after realizing how downhearted Jenny was, changes his mind about the ransom and gives her Oliver back freely. Suddenly, Sykes comes out of the shadows and kidnaps Jenny, and also demands that Fagin keeps his mouth shut whilst instantly closing his debt account.
Dodger rallies the dogs and Oliver to rescue Jenny from Sykes, whom was seemingly ransoming Jenny off, but the animals are confronted by Sykes and his Doberman dogs after they free her. Fagin then arrives at the scene and saves the group with his scooter and a chase follows through New York, and right into the subway tunnels. Sykes, driving like a maniac, pursues Fagin through the subway. Jenny accidentally ends up on Sykes' hood, and a rescue was attempted by Dodger and Oliver together. Roscoe and DeSoto fall off the car in a struggle and die when they fall onto the electric train tracks. In an almost suicidal move, Tito takes control of Fagin's scooter as Fagin attempts to retrieve Jenny, and Tito drives the scooter up the side of a bridge as Sykes' car drives straight into the path of an oncoming train, obliterating Sykes and sending him and his car toppling into the Hudson River. Dodger and Oliver managed to survive the train collision and are reunited with Jenny and the others. Later, Jenny celebrates her birthday with the animals, Fagin and Winston. Oliver opts to stay with Jenny but he promises to remain in contact with Dodger and the gang.
Cast of characters
·
Joey Lawrence as Oliver: A cute orange kitten who is looking for a home.
·
Billy Joel as Dodger: The carefree leader of Fagin's dogs and Oliver's first founder, best friend, and bodyguard. He is the object of Rita's affection.
·
Cheech Marin as Ignacio Alonzo Julio Federico de Tito: A tiny Chihuahua with anger issues.
·
Richard Mulligan as Einstein: A gray Great Dane and a member of Fagin's gang.
·
Roscoe Lee Browne as Francis: A bulldog with a British accent in Fagin's gang.
·
Sheryl Lee Ralph (Ruth Pointer, singing) as Rita: A Saluki and the only female dog in Fagin's gang.
·
Dome DeLuise as Fagin: A petty thief and a poor man on his bad side, but in truth, he is good natured and polite most of the time.
·
Robert Loggia as Sykes: An evil loan shark and shipyard agent who carries a gun.
·
Taurean Blacque and Carl Weintraub as Roscoe and DeSoto respectively: Sykes's vicious Doberman Pinshers. They have a hostile history with Fagin's pets. Roscoe wears a red collar and DeSoto wears one that is blue.
·
Natalie Gregory (Myhanh Tran, singing) as Jennifer "Jenny" Foxworth: A kind, rich girl who takes care of Oliver.
·
William Glover as Winston: The Foxworth family's bumbling but loyal butler.
·
Bette Midler as Georgette: The Foxworth family's poodle; becomes jealous of Oliver. She is the object of Tito's affection.
Musical numbers
"Once Upon a Time in New York City" - Narrator

"Why Should I Worry" - Dodger and Chorus

"Streets of Gold" - Rita, Dodger, and Chorus

"Perfect Isn't Easy" - Georgette

"Good Company" - Jenny

"Why Should I Worry" (Reprise) - Company
Production
The working title of this film during production was Oliver and the Dodger. This film pre-dated the Disney Renaissance. The original central braintrust of Disney animators, the "Nine Old Men", had retired in the early 1980s, which signaled the entrance for the next generation of Disney animators, including Oliver & Company supervising animators Glen Keane, Ruben A. Aquino, Mike Gabriel, Hendel Butoy, and Mark Henn. At a certain point, this film was to be a sequel to The Rescuers. If this had happened, it would have given the character of Penny more development, showing her living her new life in New York City with Georgette, as well as her new adoptive parents. This idea was eventually scrapped and later shelved because the producers had then felt that the story would not have been convincing.
This was the first Disney film to make heavy use of computer animation, since previous films The Black Cauldron and The Great Mouse Detective used it only for special sequences. The CGI effects were used for making the skyscrapers, the cars, trains, Fagin's scooter-cart and the climactic Subway chase. It was also the first Disney film to have a department created specifically for computer animation.
This was a test run film before The Walt Disney Company would fully commit to returning to a musical format for their animated films; Oliver & Company was the first such film to be a musical since 1981's The Fox and the Hound. For the next decade, all of Walt Disney Feature Animation's films, starting with The Little Mermaid (1989), were also musicals, except for The Rescuers Down Under (1990).
Oliver & Company
was one of the first animated Disney films to introduce new sound effects for regular use, to replace many of their original classic sounds, which would be used occasionally in later Disney films. However, The Little Mermaid introduced even more new sound effects. The new sound effects were first introduced with The Black Cauldron, while The Great Mouse Detective released a year after the previous film used the classic Disney SFX. This included some sounds such as the then fifty-year-old Castle thunder and the classic Goofy holler. However, the Disney television animation studio continued extensively using the classic Disney sound effects for several years, while the feature animation studio retired the original sound effects.
Oliver & Company
was the first animated Disney film to include real world advertised products. Many placements of real product names Coco-Cola, USA Today, Sony, and Ryder Truck Rental were some of the most used examples. It was said on ABC's The Wonderful World of Disney that this was for realism, was not paid product placement, and that it would not be New York City without advertising.
Certain animal characters from previous Disney films make cameos in Oliver & Company. When Dodger sings "Why Should I Worry?" in the beginning of the film, some of the dogs shown are Peg, Jock, and Trusty from lady and the Tramp, and Pongo from One Hundred and One Dalmatians.
Release
The film was released on November 18, 1988, the same day as The Land Before Time, a production of Disney expatriate Don Bluth.
As of 2008, Oliver & Company made a total domestic gross of $74 million at the U.S. box office, $53.2 million of which came from its original run. Its success prompted Disney's senior vice-president of animation, Peter Schneider, to announce the company's plans to release animated features annually. Since 1988, Disney Feature Animation has released at least one film a year, except for 1993 and 2006.
During its release, McDonald's sold Christmas musical ornaments containing the film's two main characters, Oliver and Dodger, the start of a multi-year agreement of joint promotions with licensed products.
In the United Kingdom, Oliver & Company was not distributed by Buena Vista International, but by Warner Bros. Buena Vista International did however release the film on home video.
Despite its financial success at the box office, Oliver & Company was not released on video until after its re-release in 1996. It was later released on DVD in 2002; a 20th Anniversary Edition was released on February 3, 2009.
Reception
Despite its success at the box office, reviews for Oliver and Company are generally mixed to negative. As of 2010, Rotten Tomatoes reported that 42% of critics gave the film positive reviews based on 33 reviews with an average rating of 5.4/10. Its consensus states that "Oliver & Company is a decidedly lesser effort in the Disney canon, with lackluster songs, stiff animation, and a thoroughly predictable plot."
On the television program, Siskel & Ebert, Gene Siskel gave the film a Thumbs Down. Siskel stated "When you measure this film to the company's legacy of classics, it doesn't match up" as he complained "the story is too fragmented". Roger Ebert gave the film a "marginal Thumbs Up" as he described the film as "harmless, inoffensive."
The staff of Halliwell's Film Guide called Oliver & Company "episodic" and "short on charm". "Only now and then," they added, "it provides glimpses of stylish animation."
The Ren and Sstimpy Show
creator John Kricfalusi suggested that the film was derivative of Ralph Bakshi's works, and jokingly suggested its use as a form of punishment.
Awards
·
Golden Globe Award for Best Original Song for "Why Should I Worry?" (Nominated)
·
Young Artist Award for Best Family Feature Film - Animation (Nominated)
·
Golden Reel Awards for Best Sound Editing (Won)
Soundtrack
The Instrumental score for Oliver & Company was composed by J.A.C. Redford, and the film's music was supervised by Carole Childs. The first song heard in the film, "Once Upon a Time in New York City", was co-written by lyricist Howard Ashman, who with Alan Menken, would write the songs for the next three Disney films. Billy Joel, in addition to voicing Dodger, performed the character's song in the film.
The track list below represents the 1996 re-release of the Oliver & Company soundtrack. The original 1988 release featured the same songs, but with the instrumental cues placed in between the songs in the order in which they appeared in the film. Using the numbering system in the list below, the order the tracks on the 1988 release would be: 1, 2, 6, 7, 3, 4, 5, 8, 9, 10, and 11. The reprise of "Why Should I Worry?", performed by the entire cast, remains unreleased on CD.
"Once Upon a Time in New York City" – Huey Lewis; written by Barry Mann and Howard Ashman

"Why Should I Worry?" – Billy Joel; written by Dan Hartman and Charlie Midnight

"Streets of Gold" – Ruth Pointer; written by Dean Pitchford and Tom Snow

"Perfect Isn't Easy" – Bette Midler; written by Barry Manilow, Jack Feldman, and Bruce Sussman

"Good Company" - Myhanh Tran; written by Ron Rocha and Robert Minkoff

"Sykes" (score)

"Bedtime Story" (score)

"The Rescue" (score)

"Pursuit Through the Subway" (score)

"Buscando Guayaba" – Ruben Blades

"End Title" (instrumental)
http://Disney.go.com/disneyinsider/history