Disney Legend ~ Ub Iwerks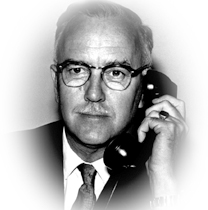 From 1928 ~ 1930 Ub worked with Walt and continued to be the main animator for Mickey Mouse and the studio in general. Walt also had Ub training his new set of animators. Ub trained up Walt's famous 9 Old Men. From what I've heard he was a demanding teacher and when mistakes were made he was sharp and ruthless with his criticism. If you did well he was light on praise. He was also considered one of the best teachers because he was so good at what he did and he pulled the best out of students who had talent and tried.
Because of the betrayal Walt felt over the loss of Oswald and more importantly his animation crew Walt became driven and mistrusting of people in general. This often was taken out on Ub. In 1930 Ub had finally had enough of Walt's demands and the fact that Walt seemed to be taking the credit for his work. When Pat Powers came to him with an offer to finance a studio of his own Ub could not refuse.
Ub created several characters for his Iweerks Studio, one being the Mickey styled Flip the Frog and another Willie Whopper. For three years Ub tried to get his studio going but could never compete with Disney. The studio failed in 1936 and the majority of Ub's cartoons from that time were never widely distributed but some are available today on DVD.
From 1937 to 1940 Ub worked for various studios was even contracted to direct four Looney Tunes cartoons. He did two of them but before he could return to finish another team was hired to do the other two. Ub also did a
ComiColor series that included a short titled "Little Black Sambo". It was so racially stereotyped that it was banned in the United States.
In 1940 Ub did the unthinkable and returned to Disney studios but not as an animator. Not many who crossed Walt Disney could ever get back in his good graces. He worked on developing special visual effects.
He is credited as developing the processes for combining live action and animation used in Song of the South, as well as the xerographic process adapted for cel animation. He also worked at WED Enterprises, now Walt Disney Imagineering, helping to develop many Disney theme park attractions during the 1960s. Iwerks did special effects work outside the studio as well, including his Academy Award nominated achievement for Alfred Hitchcock's The Birds in 1963.
Here is a list of his awards.
Shared with:
Petro Vlahos
Pohl, Wadsworth E.


For the conception and perfection of techniques for Color Traveling Matte Composite Cinematography.

Best Effects, Special Visual Effects
for:The Birds (1963).

Technical Achievement Award

For the design of an improved optical printer for special effects and matte shots.
Ub was inducted as a Disney Legend in 1989. His two sons Don and Dave both worked for Disney. There is actually a fourth generation of Iweerks working for the Disney Company today.
So hats off and pencils up in honor of Ub Iweerks, The Hand Behind the Mouse.