Release Date November 25th, 1998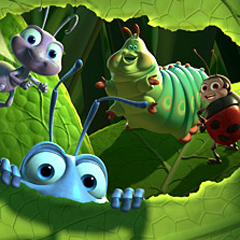 Flik is a natural-born inventor and always looking for ways to improve things - which would be great if he weren't merely an ant. The rest of the anthill residents just want him to settle down and do exactly what all the other ants do. So, when Flik sets out to recruit "warrior bugs" to protect the anthill from a bullying gang of grasshoppers, they're glad to see him go. So begins an epic adventure on a very small scale. When Flik returns with a troupe of circus bugs, he needs to think fast to find a winning strategy to save the day - and impress the lovely Princess Atta. The ants, however, must trust Flik and work together if they are to survive.
A Bug's Life
is a 1998 American computer animated adventure comedy film produced by Pixar and released by Walt Disney Pictures in the United States on November 25, 1998. Directed by John Lasseter and co-directed by Andrew Stanton, the film is the second Disney-Pixar feature film after Toy Story, and the third American computer-animated film after Toy Story and DreamWorks'

Antz

. Based on Akira Kurosawa's film Seven Samurai, and Aesop's fable "The Ant and the Grasshopper", it tells the tale of an oddball individualist inventor ant named Flik who hires what he thinks are "warrior bugs" — actually circus performers — to fight off a small band of grasshoppers who have made the ant colony their servants. The film received positive reception and was a box office success.
Plot
Flik is an individualist and would-be inventor in a colony of ants — led by Princess Atta and her mother, The Queen — living on a small island in the middle of a creek. Flik is different and always unappreciated because of his problematic inventions. He is friends with Princess Dot, Atta's younger sister.
The colony is oppressed by a gang of marauding grasshoppers led by Hopper who arrive every season demanding food from the ants. When the annual offering is inadvertently knocked into a stream by Flik's latest invention, a harvester device, the grasshoppers demand twice as much food as compensation.
Given a temporary reprieve by the grasshoppers, Flik tricks the ants into accepting his plan to recruit "warrior bugs" to fight off the grasshoppers. While Flik actually believes in the plan, the other ants see it as a fool's errand to get rid of Flik and save themselves trouble. Making his way to the "big city" (a heap of trash under a trailer), Flik mistakes a group of circus bugs for the warrior bugs he seeks. The bugs, in turn, mistake Flik for a talent agent, and agree to travel with him back to Ant Island.
Discovering their mutual misunderstanding, the circus bugs attempt to leave, but are forced back by a bird. They save Princess Dot from the bird as they flee, gaining the ants' trust in the process. They continue the ruse of being "warriors" so the troupe can continue to enjoy the attention and hospitality of the ants. The bird encounter inspires Flik into creating an artificial bird to scare away Hopper, leader of the grasshoppers, who is deeply afraid of birds. The bird is constructed, but the circus bugs are exposed by their former ringmaster, P.T. Flea, when he arrives searching for them.
Angered at Flik's deception, the ants exile him and desperately try to pull together enough food for a new offering to the grasshoppers, but fail to do so. When the grasshoppers discover a meager offering upon their arrival, they take control of the entire colony and begin eating the ants' winter store of food. After overhearing Hopper's plan to kill the queen, Dot leaves in search of Flik and convinces him to return and save the colony with his original plan. The plan nearly works, but P.T. Flea lights the bird model on fire, causing it to crash and be revealed as a fake. Hopper has Flik beaten in retaliation, but Flik defies Hopper and inspires the entire colony to stand up to the grasshoppers and drive them out of the colony
Before Hopper can be disposed of, it begins to rain. In the chaos, Hopper viciously pursues Flik, who leads him to an actual bird's nest. Hopper mistakes the real bird for another fake bird, and taunts it, attracting its attention. He is eaten by the bird and its chicks, ending his menace once and for all.
Some time later, Flik has been welcomed back to the colony, and he and Atta are now a couple. As the troupe departs with the last grasshopper, Molt, as an employee, Atta is crowned the new Queen, while Dot gets the princess' crown. The circus troupe then departs as Flik, Atta and Dot watch and wave farewell in a tree branch.
Cast
Dave Foley as Flik: An ant who wants to make a difference for his colony.

Kevin Spacey as Hopper: The cruel leader of the grasshoppers.

Julia Louis-Dreyfus as Princess Atta: The older daughter and heir of The Queen, Dot's older sister and Flik's love interest.

Hayden Panettiere as Dot: The Queen's youngest daughter, Atta's younger sister and one of Flik's friends.

Phyllis Diller as The Queen: Atta and Dot's mother and the leader of the ants.

Richard Kind as Molt: Hopper's well-meaning younger brother.

David Hyde Pierce as Slim: A Stick Insect clown who is part of P.T. Flea's circus troupe.

Joe Ranft as Heimlich: A Caterpillar clown who is part of P.T. Flea's circus troupe; likes to eat.

Denis Leary as Francis: A Ladybug clown who is part of P.T. Flea's circus troupe; has a bad temper due to often being mistaken for a female.

Jonathan Harris as Manny: A Praying Mantis magician who is part of P.T. Flea's circus troupe.

Madeline Kahn as Gypsy: A Gypsy Moth who is part of P.T. Flea's circus troupe; Manny's wife and assistant.

Bonnie Hunt as Rosie: A Black Widow Spider who is part of P.T. Flea's circus troupe; acts like a mother figure to Dim and the younger ants in the colony.

Mike McShane as Tuck and Roll: Two

Pillbug

acrobats who are part of P.T. Flea's circus troupe.

John Ratzenberger as P.T. Flea: A Flea who is the boss of the circus troupe.

Brad Garrett as Dim: A Rhinoceros Beetle who is part of P.T. Flea's circus troupe; acts like a son to Rosie.

Roddy McDowall as Mr. Soil: The colony's resident thespian and advisor to The Queen. It was McDowall's last role.

Edie McClurg as Dr. Flora: The doctor of the ant colony.

Alex Rocco as Thorny: A member of the Council of Ants.

David Ossman as Cornelius: An elderly ant.
Production
In 1988, Disney had considered producing a film entitled "Army Ants", that centered around a pacifist ant living in a militaristic colony but it was never fully materialized. In 1994, while working on Toy Story, John Lasseter, Andrew Stanton, Pete Docter and Joe Ranft attended a lunch to discuss future projects. They talked about doing Aesop's fable "The Ant and the Grasshopper", but with a twist. They eventually decided that instead of having the Grasshopper beg for food, it would demand it. The Japanese film Seven Samurai by Akira Kurosawa influenced the story. In early versions, Flik was an ant named Red and was part of P.T's Circus. However this created several story problems and he was changed to the ant sent to hire the warrior bugs. The characters of "Tuck and Roll" were inspired by a drawing that Andrew Stanton did of two bugs fighting when he was in Second Grade.
Kevin Spacey met John Lasseter at the 1995 Academy Awards (Spacey being there for Best Actor in a Supporting Role for The Usual Suspects and Lasseter being there for Academy Special Achievement Award for Toy Story). When Lasseter asked Spacey if he would be interested in doing the voice of Hopper, Spacey was delighted.
For research, Pixar ordered a tiny camera, put Lego wheels on it, attached it to a stick and named it the "Bug-Cam". The "Bug-Cam" was then wheeled out onto the garden of Pixar in order to see what small objects looked like from a bugs point of view. The artists were amazed by the translucency of the world. Lasseter claimed "It was like living in a world of stained glass windows." The animators also studied the movement of insects to apply to the characters.
The technical artists created crowd simulation, allowing the film makers to create over 430 shots with over 800 characters in the frame without having to animate every single ant. The animators would only animate 4–5 groups of approximately 8 individual universal ants. Each one of these universal ants would later be randomly distributed throughout the digital set. The program also allowed each ant to be automatically modified in subtle ways (e.g. different eye color, different skin color, different heights, different weights etc.). This made sure that no two ants were the same.
DreamWorks Animation's similar film

Antz

was released a little more than a month before A Bug's Life. DreamWorks' Jeffrey Katzenberg left Disney in 1994 and said the idea for Antz came from a 1991 story pitch by Tim Johnson that was related to Katzenberg in October 1994. Pixar head John Lasseter said he felt "betrayed" when he learned Antz was scheduled for release before A Bug's Life. According to Lasseter and Steve Jobs, Katzenberg offered to stop development of Antz if Disney moved the release date of A Bug's Life, which was coming out opposite DreamWorks Animation's The Prince of Egypt. Pixar refused.
The release date of Antz was moved up from March 1999 to October 1998 in response to Pixar's refusal. Even though A Bug's Life was the first to be pitched, Antz was finished and released first. A Bug's Life, however, was a bigger success.
Music
A Bug's Life: An Original Walt Disney Records Soundtrack
is the original soundtrack album to A Bug's Life, produced by Walt Disney Records. The first track of the album is song called "The Time of Your Life" written and performed by Newman, while all the other tracks are orchestral cues. The album has gone off the market but is available for purchase on iTunes.
The score won the Grammy Award for Best Instrumental Composition.
"The Time of Your Life"

(performed by Newman)
Reception
Critical reception
The film received very positive reviews upon release. Review aggregator Rotten Tomatoes reports that 92% of critics have given the film a positive review based on 81 reviews, with an average score of 7.9/10. The critical consensus is "Blending top notch animation with rousing adventure, witty dialogue, and memorable characters, A Bug's Life is another Pixar winner." Another review aggregator, Metacritic, which assigns a normalized rating out of 100 top reviews from mainstream critics, calculated a score of 77 based on 23 reviews."
Box office
A Bug's Life
grossed approximately $33,258,052 on its opening weekend, ranking #1 for that weekend. It managed to retain its #1 spot for two weeks. The film eventually made $162.7 million in its United States theatrical run, covering its estimated production costs of $45 million. The film made $200,600,000 in foreign countries. The film made a worldwide gross of $363.3 million, surpassing the competition from DreamWorks Animation's

Antz

.
Awards
Main article: List of Pixar awards and nominations (feature films)#A Bug's Life
American Film Institute
The American Film Institute nominated A Bug's Life for its Top 10 Animated Films list.
Release
Home media
The DVD of the film was the first wholly digital transfer of a feature film to a digital playback medium. No analog processes came between the creation of the computer images and their representation on the DVD.
The pan and scan or 'full screen' version of the video (on the DVD as well as VHS releases) has been reframed and restaged; rather than sacrifice image in some parts of the film, the frame has been extended or objects moved to fit the narrower aspect ratio. Pixar continued this process on its later video releases. Also, different characters (Flik, Dot, Francis, Hopper, and Heimlich) were on one (by themselves) cover of the video cover, considered a collectible in many cases.
To show off its new DVD capabilities, a copy of the film was included with the Apple iMac DV, which made its debut on October 8, 1997. A laserdisc version was also released in Japan by Pioneer, one of the last. The film was released on August 15, 2000 on VHS and DVD in the Walt Disney Gold Classic Collection.
The widescreen version of the film preserves its original aspect ratio of 2.40:1. A Bug's Life is the first fully computer animated feature to be created with this ratio.
A set of "fluffs" and "outtakes" was included, in which various animated characters corpse or "blow" their dialog. In one, Flik yells the line "To infinity, and beyond!", quoting Buzz Lightyear from an earlier Pixar film, Toy Story. Later, Woody leans into view with an upside down clapperboard to mark the end of a botched take.
On July 19, 2005, another DVD was released as a Special Edition. This DVD is fully remastered and has substantial bonus features about the film, and is the current DVD release today. On May 19, 2009, a Blu-ray version was released. These versions included a DisneyFile Digital Copy.
Media and merchandise
Attached short film
Theatrical and video releases of this film include Geri's Game, a Pixar short made in 1997, a year before this film was released.
Theme park attractions
A Bug's Land
is a section of Disney California Adventure Park is entirely dedicated to A Bug's Life. One of the main attractions is the 3D show It's Tough to Be a Bug! which is also in Disney's Animal Kingdom at the Walt Disney World Resort. The Disney California Adventure Park attraction, World of Color features a segment focused on A Bug's Life.