Every Disney Hero Has a Voice
Duchess Shared A Voice with The Rescuers ~ Bianca
February 11th, 1919 – July 4th, 1995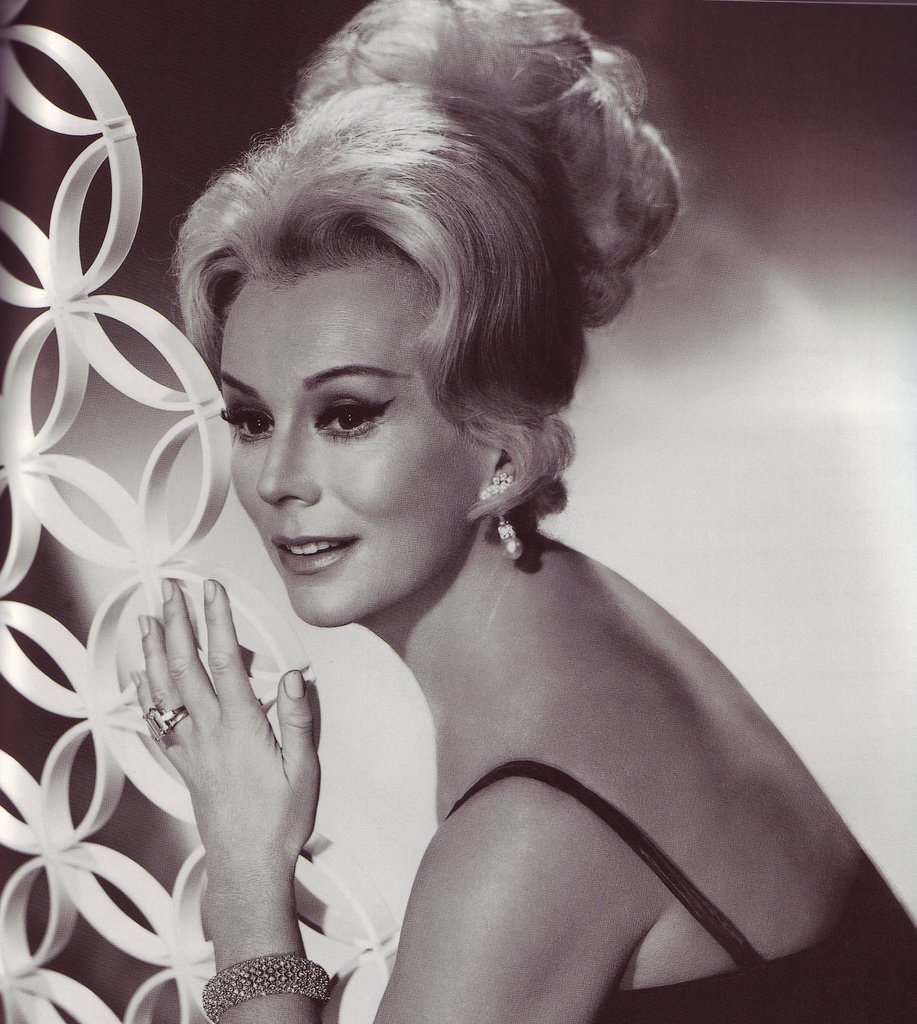 Éva Gábor
(11 February 1919 – 4 July 1995) was a Hungarian-born American socialite and actress. She was widely known for her role on the 1965 to 1971 television sitcom, Green Acres as Lisa Douglas, the wife of Eddie Albert's character, Oliver Wendell Douglas. She portrayed Duchess in the 1970 Disney film The Aristocats, and Miss Bianca in Disney's The Rescuers and The Rescuers Down Under. Gábor had success as an actress in film, Broadway and television; she was also successful in business, marketing wigs, clothing, and beauty products. Her older sisters, Zsa Zsa Gabor and Magda Gabor, were also American actresses and socialites.
Biography
Early life & career
Born in Budapest of Jewish descent, Gábor was the third and last daughter of Vilmos Gábor (1884–1962), a soldier, and Jolie Gábor (1894–1997), a jeweler. She was the first Gábor sister to emigrate to the United States. She moved with her first husband, a Swedish osteopath, Eric V. Drimmer in 1939, shortly after they married in London. Her first movie role was in the United States, a bit part in Forced Landing at Paramount Pictures. She acted in movies and on the stage throughout the 1950s.
During the 1950s, she appeared in several "A"-movies including The Last Time I Saw Paris, starring Elizabeth Taylor, and Artists and Models, which featured Dean Martin and Jerry Lewis. These roles were again bit parts. In 1953 she was given her own television talk show, The Eva Gabor Show. It ran for one season (1953–54).
Throughout the rest of the 1950s and early 1960s, she appeared on television and in movies. She appeared in one episode of the TV series Justice, and was on the game show What's My Line?, as the "mystery challenger". Her film appearances during this era included a remake of My Man Godfrey, Gigi, and It Started with a Kiss.
A 2007 article in the American magazine Vanity Fair called Gábor "a game performer with a wholesome, even cheerful sensuality that can undercut the Continental sophistication that was supposedly her calling card—she can come across like Sally Field doing a party impression of Marlene Dietrich. You can see the effort. She was probably at her best on television in Green Acres, playing a cross between Gracie Allen and herself."
Green Acres
In 1965, Gábor began the role for which she is best-remembered, Lisa Douglas, whose attorney husband (Oliver Wendell Douglas, played by Eddie Albert), decides to leave the city. They buy and run a farm in a rural community, forcing Lisa to leave her beloved New York City, in the Paul Henning situation comedy-sitcom Green Acres, which aired on CBS.
Gábor's role of Lisa was that of a rich, somewhat spoiled, and pampered socialite, who disapproves of farm life. However, she learns to live with it, trying to become a cook and a good housewife, while Oliver runs the farm. Lisa has a great deal of love for her chickens, naming one Henrietta and another Alice. She does not appear in casual clothing, always wearing glamorous, designer frocks around the farm. She does dress more circumspectly, however, when appearing in public with her husband. She constitutes the polite interface with the local "personalities", whose backward ways usually provoke Oliver to anger or petty frustration. Green Acres was located in

Hooterville

, the same scenery for Petticoat Junction (1963–1970) and would occasionally crossovers with its sister sitcom.
Proving to be a ratings hit, staying in the top twenty for its first four seasons, Green Acres as was its other sister show, The Beverly Hillbillies, was itself cancelled in 1971 owing to the CBS network's "rural purge", an attempt to attract a younger viewer demographic; most viewers of the series were at least 40 years old.
Later years
Gábor did voice-over work for Disney movies, providing the European-accented voices of Duchess in The Aristocats, Miss Bianca in The Rescuers and The Rescuers Down Under, and the Queen of Time in the Sanrio film, Nutcracker Fantasy.
From 1983–84 she reunited with Albert on Broadway as Olga in You Can't Take It with You.
Gabor toured post-Communist Hungary on an episode of Lifestyles of the Rich and Famous after a forty year absence.
Businesses
In 1972, Gábor launched the Eva Gabor fashion collection; the clothes were the work of Luis Estevez, a Cuban-born, Coty-award-winning fashion designer.
Marriages
The three Gábor sisters were known for their numerous marriages. Eva Gábor was married 5 times:
Eric Valdemar Drimmer, a Swedish-born masseur turned osteopath and psychologist, whose patients included Greta Garbo and Signe Hasso. They married in London in June 1939 and divorced in Los Angeles, California, on 25 February 1942 (it was finalized on 6 March); Gabor claimed cruelty, saying, "I wanted to have babies and lead a simple family life but my husband objected to my having children". They had no children.

Charles Isaacs, an American investment broker. They married on 27 September 1943 and were divorced on 2 April 1949. They had no children.

John Elbert Williams, M.D., a plastic surgeon. They married on 8 April 1956 and were divorced on 20 March 1957. They had no children.

Richard Brown, a textile manufacturer, who later became a writer and director. They married at the Flamingo Hotel in Las Vegas, Nevada, on 4 October 1959 and were divorced in Santa Monica, California, in June 1973. During this marriage, Gábor was "pistolwhipped" (January 1965) by thieves who took and sold her diamond wedding ring. They had no children.

Frank Gard Jameson, Sr., an aerospace executive and former vice president of Rockwell International. They married in the Vivien Webb Chapel of The Webb School of California, in Claremont, California, on 21 September 1973; they were divorced in 1983. By this marriage Gabor became stepmother to four Jameson children.
Gábor also had affairs with Frank Sinatra, Glenn Ford, and Tyrone Power.
Death
Gábor died in Los Angeles on 4 July 1995 due to respiratory failure and pneumonia, following a fall in the bathtub. The fall occurred in Mexico, where she had been on vacation.
Although the youngest of the three sisters, she was the first to die, and she also predeceased her mother. Her mother, Jolie, died on 1 April 1997, and her sister, Magda, died on 6 June 1997. As of 2012, Zsa Zsa Gabor is still living.
Interment
Gábor is interred in the Westwood Village Memorial Park Cemetery in Westwood, Los Angeles, California. She is buried near Eddie Albert, who died on 26 May 2005 (age 99).
Stage work
Broadway
Majestic
Winter Garden

You Can't Take It with You
Select filmography
Forced Landing

(1941)

New York Town

(1941)

Pacific Blackout

(1941)

Star Spangled Rhythm

(1942)

A Royal Scandal

(1945)

The Mad Magician

(1954)

The Last Time I Saw Paris

(1954)

Captain Kidd and the Slave Girl

(1954)

Artists and Models

(1955)

My Man Godfrey

(1957)

The Truth About Women

(1957)

Don't Go Near the Water

(1957)

Gigi

(1958)

It Started with a Kiss

(1959)

A New Kind of Love

(1963)

Youngblood Hawke

(1964)

The Aristocats

(1970) (voice)

The Rescuers

(1977) (voice)

Nutcracker Fantasy

(1979) (voice)

The Jetsons Meet the Flintstones

(1987) (voice)

The Princess Academy

(1987)

The Rescuers Down Under

(1990) (voice)
Television work
The Eva Gabor Show

(1953–54)

Justice

(1954–55; 2 episodes: "The Blackmailer", "The Intruder")

What's My Line?

(17 Nov 1957) Season No. 9, Episode No. 12 (overall episode #389) as Mystery Guest

Five Fingers

(1959; episode: "Station Break")

Harrigan and Son

(1960–61), two appearances as "Lillian Lovely"

Green Acres

(1965–71) as Lisa Douglas

Here's Lucy

(1968; 1st season, episode No. 7, as "Eva Von Gronyitz")

Wake Me When the War Is Over

(1969)

Match Game

(1973–82; recurring panelist)

Ellery Queen

(1976 episode: "The Adventure of the Blunt Instrument")

The Edge of Night

(cast member, 1983)

Return to Green Acres

as Lisa Douglas (1990)

The Legend of the Beverly Hillbillies

(1993; as herself)