The Hardest Thing to Do ~ Being Creative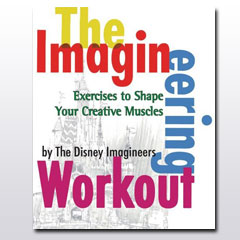 I love being around creative people and the results of the work of creative people. I guess that is why I love Disney so much. I appreciate the creative work and thought process of the Imagineers and artists of Disney.
For much of my life for many reasons I've held myself back from being one of the "creative people". That is not to say I've not done a few creative things from time to time. It is just I've not lived what I would call a creative lifestyle. I've allowed others to say and I've told myself I don't have the talent, creativity, intelligence, time or money to be creative. I've decided I'm going to start to live the life I've always wanted and be the creative person I've always admired. I've decided to give myself permission to be creative and ignore the negative thoughts and comments people make or have made. I've also decided to look for where I am already creative and explore how to improve that. So where to start?
While at Disneyland I got an interesting book "The Imagineering Workout, Exercises to Shape Your Creative Muscles" by The Disney Imagineers. Once or twice a week I'm going to update my blog with a post on how my creative exercise is going! I'll share what I've read in the book, what I feel about it and how it has inspired me to be more creative.
For this post I'll share what is in the introduction or 'Why This Book' section of the book. It was written by Jody Revenson, Editor, Disney Editions. Jody shared the experience of hanging a paper-mache seahorse up in her house. The "tissue paper" ceiling in her house would not hold the creation. She tried several different ideas but ended up with holes in the ceiling and the seahorse still not hanging in her "under the sea" themed room. She was about to give up and go make lunch and do laundry when she started thinking about the creative Imagineers she works with at Disney. What would an Imagineer do? They would not give up they would try again! They would look for a different way to do it. She took a few deep breaths and with a few more holes in the walls she did get it up! She ended up hanging the seahorse on a bit of fishing line strung between two walls in the corner where she wanted to place it.
Creativity does not have to be limited to the decorating your house or any visual or musical art form. Creativity shows up in many parts of our lives where we don't see it. From the way we cook a meal to the way we do our job we are creative creatures. To expand our creative endeavors we need to exercise our creative muscles! We also need to give ourselves permission to fail and not give up!
Jody said, (and I agree) "The best part of this type of exercising is you don't have to buy gym clothes and get sweaty (unless you want to). You can do it anytime and anywhere."
I'm going to start exercising my creative muscles. Do you want to join me? I'm going to get started, stop talking and begin doing as Walt Disney would say. I'm giving myself permission to try new things, fail and try again! I'm going to dream of doing new things and build on and expand my current creative talents.
If you wish to follow along and read the book for yourself here is the information:
It is available at Amazon.com