How to Bring a Little Disney Magic into Your Home Everyday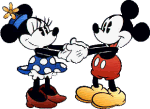 Ok, I'll be honest. I am a totally addicted to Disney! I love walking into a Disney Hotel or Park and seeing all the little Disney touches. I was amazed the two times I was on the Disney Cruise Ships when I saw all the beautiful little hidden Disney touches. Hidden Mickeys and other characters and even the not hidden characters that are tastefully placed make it so special.
When I come home from a visit to Disneyland (especially one of the rare occasions when we stay at one of the hotels) I want to put little Disney touches all around my home. So how do I do that?
First I put up pictures from our visits. Some are just pictures of characters. Other pictures of us taken to celebrate special occasions are placed in special places of honor. I make displays of special trip pictures that don't happen often. These are the pictures of Disney trips we don't do often or only once. We have only been to WDW once and on the DCL twice. Those pictures and little mementos will have special places with special frames and shadow boxes. I will be honest I'm still working on putting a good number of things up.
I try to add little Mickey touches to small things around my house. I'll cut an Icon Mickey out of a piece of cloth and sew it on a wash cloth, towel or dish cloth. I even put Mickey on aprons and other items. I have designed many different crochet patterns with Mickey & Minnie in them. I've made table clothes, blankets, scarves, Christmas tree skirts and other items for my home and as gifts. I even cook with a Mickey touch! I try to recreate food I enjoy at the parks. I also come up with ways to put my favorite mouse in my dishes.
Most of all I try to keep the Disney way of thinking going in my family. Think Blue Sky, what would you do if you had no restrictions. You want to change the decor in your room, plan a super special party/trip or make a gift? What would you do with no restrictions of money, ability or time. Now that you have those ideas what can you really do with it. What can you afford or how can you do with you want for less. If you don't know how to do something can you learn it? Can you change things to make it work? Think Disney Cast Member Service, don't say, "I don't know." Instead say, "I/We can find out." This is great when helping a child learn something you don't know. Disney gives it's cast members permission NOT to know everything as long as they keep trying to find out. Keeping the Disney way of thinking helps solve problems and keep creativity going.