4th of July at Disneyland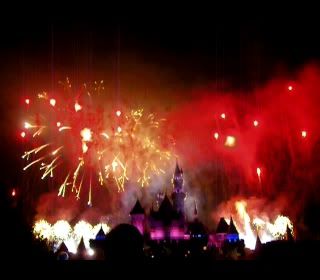 This 4th of July I did something I've never done before but have always wanted to on the 4thof July. I went to Disneyland! I've gone many other times and even have an annual pass but have never gone on the 4th. I had heard for years how on the 4th of July at Disneyland they have one of the best fireworks display in the nation.
I knew if we were to enjoy the day we needed to have a plan. We needed to choose what was important for us to see. Did we want to see Fireworks, World of Color, Fantasmic or focus on just doing rides and shows and not worry about any special entertainment. I knew it would be more crowded than usual and whatever we wanted to do we needed to have a plan. Before going we decided because it was the 4th of July we had to see the fireworks.
We got to the park around 9 am. We were surprised when we pulled into the parking lot and there was no line! We were warned there would be long lines for the tram to go to the park from the parking structure. There was no wait at all. When we got into the park we were pleased to find it was not as busy as expected. Cast Members made comments on the fact it was not as busy as anticipated or as the days before. Some also said they had no set location to work due to the low crowds. We had friends that were at the park the entire weekend and they said the days before the forth the parks were packed and it was expected to be worse on the 4th. The park did get busier as the day went on but never reached peak capacity. This is not to say it was not busier than normal.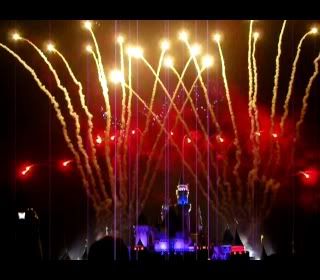 We have a particular location we like to see the fireworks from. I must say I'm picky and if I can't see them from here I don't want to see them at all. The fireworks are designed to be viewed from directly in front castle. This is where I love to see it from. If you watch it from this location the fireworks frame the castle and you can see special lighting effects on the castle and Matterhorn that add to the story being told by the fireworks. You can clearly see Tinker Bell's flight off the Matterhorn if she flies. I also know this location is one of the hardest to get a good view from if you are a little person like me. In front of the castle they make all the people stand to view the fireworks. If you are a child or a little person standing in the crowd most likely all you will see is the backside of the person in front of you. Let me assure you this is not a pleasant view!
I've found a wonderful spot at the fence around the outside of the hub area that, if I get there early enough I can have a bench to sit on while waiting for the fireworks and when the fireworks start I can stand behind the bench allowing me room to see the fireworks as they are intended. This is not an easy spot to get on a normal day and worse for special events and holidays. On a normal day I usually sit down on the bench between 4:30 and 5 to see the fireworks, that is about 4-5 hours before the fireworks. Yesterday I knew people would want to see the fireworks and would start getting spots early. I was sure right!
At noon I went to check on our favorite firework viewing spot and people were already grabbing spots. So we decided since the spot right next to our preferred spot was open we would stay. Our friends joined us shortly after this, bringing their lunch to enjoy with us. There we stayed until the fireworks. We took turns taking walks, going on rides, getting things to eat and taking care of personal needs like several stops at first aid.
The temperature was around 100 at Disneyland and I don't do well in the heat. There was just enough shade for me to sit in but I was still way too hot. I went to First Aid and asked for an ice pack to place on my neck. They will gladly give ice packs to you if needed. It is cheaper and easier for them to hand out a bag of ice instead of letting the guest get sick and requiring more assistance. Also making sure the guest stays health makes the guest happy. A happy guest is a good guest that will spend money, come back and encourage others to come. So I was a very Happy Guest!
While we sat Scott pulled out his pins and did some pin trading. He got some wonderful pins and even got an Honorary Citizen of Disneyland Button from a lead CM for his attempt to keep kids away from the Pin Sharks.
We chatted with the people sitting around us and to the cast members working in the area. Those we found around us that had or were serving in the armed forces we thanked for their service. We did not get to go see it but they had a special Flag Retreat ceremony. All the Cast Members who had or were serving were allowed to go to the Flag Retreat to be honored for their service.
Just before the fireworks my friend PurpleTink called me. I knew she was at the park and had been sitting as long as I had waiting for Fantasmic. She said her group of friends was planning on staying for the second Fantasmic as well and they had four spots for us! So right after the fireworks we ran over to New Orleans and the best seats for viewing Fantasmic! This is the only way you can see both fireworks and Fantasmic in the same day from good locations.
When the time came to exit the park we remembered the warning we got in the morning when we came into the parking structure. We were told it could be up to an hour wait for a tram back to the parking lot due to the crowds. We went over to the trams and got on the first tram that came. Good day at our favorite place, lower than expected crowds, good friends and fantastic fireworks! What a wonderful way to spend the 4thof July!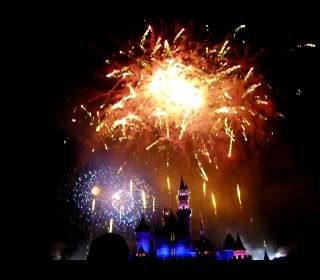 My video of the Disneyland 4th of July fireworks