Disney Legend and One of Walt's Nine Old Men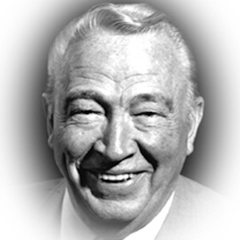 September 3rd, 1905 ~ October 25th, 1988
At a young age Eric Larson wanted to be a journalist. He went to university to study
journalism and also secretly took drawing lesson. In 1925 Eric headed to Los Angeles to try his hand at journalism and writing. Sadly for him but a blessing for animation lovers he failed to get a job in journalism. He fell back on his drawing lessons and in 1933 applied at the Disney Studios. He was hired as an `in-betweener'.
Animator Hamilton Luske recognized Larson's talent and promoted him to assistant animator; Luske became Larson's mentor. Further promotions followed and Larson was made an animator on Snow White. In 1940 he was further promoted to animation director.
Eric Larson became a gentle and devoted mentor to the next generation of up-and-coming Disney artists. One of his former students Andreas Deja, who animated such Disney characters as Jafar in "Aladdin" and Scar in "The Lion King," recalled Eric as "The best animation teacher ever." Said Deja, "No one was more concerned with passing on the Disney legacy than Eric."
In the 1970 Larson saw that the older seasoned animators were dying or leaving. He headed up a program to find and train new animators to take over. Many of today's current seasoned animators owe their start to Eric Larson.
After 52 years at Disney, Eric retired in 1986. In an interview at that time, he said, "The important thing is not how long I've been here [at Disney], but how much I've enjoyed it and what I've accomplished in all that time. When I think about my contribution to the animation that people enjoy so much, it makes me feel good."