Disney Legend and First of Walt's Nine Old Men
November 17, 1907 - September 12, 1979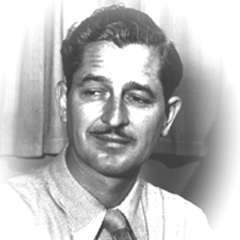 In the summer of 1925 High School Student, Les Clark was working a summer job at a lunch counter near the Disney Brothers Hyperion Studio, in the Silver Lake area east of Hollywood. Roy and Walt would often eat.
One day Walt complemented Clark on his lettering on the mirror menu board saying he had strong lines. Two years later Clark remembered this complement and asked Walt for a job. Clark remembers Walt saying,
"Bring some of your drawings in and let's see what they look like,"
Clark freehand copied some cartoons from College Humor and took them to Walt. Walt liked his strong line and sure hand and offered him a job starting the next Monday. Clark graduated from High School on Thursday and started work for Disney the next Monday. Walt told Clark the job was most likely temporary; Clark worked for Disney for 48 years.
When Clark started working for Disney he had no formal art training. He did have a drive to learn and improve. He started out at the lowest level in the studio and for six months operated the animation camera. For another six months he worked in the Ink and Paint department putting the animator's drawings onto cells to be animated. Les repaid Walt for the opportunity with loyalty.

Les was always striving to improve his art and was always taking classes.
During the studios dark days of 1928 Les Clark stayed loyal to Walt Disney. With the loss of Oswald and all the animators, except Ub Iwerks, Les Clark helped Ub with the first Mickey Mouse cartoon, Steamboat Willy. He did the In Between work for Ub. Ub became his mentor/teacher and taught him about animation. Clark came in at just the right time. There were many new developments and he was at the ground floor and become one of the people that created, shaped and changed the art form.
Clark surpassed Ub Iwerks in draftsmanship and flexibility in personality animating.
Clark's animation would always maintain echoes of the magical, cartoony Iwerks style.
In 1929 he animated his first sequence in the first "Silly Symphony, The Skeleton Dance>". He animated the sequence of one skeleton playing the ribs of another like a xylophone. He went on to animate or direct twenty feature films and over one hundred shorts. Later Walt asked him to work on TV specials and educational films. He did this for nearly twenty years.