Disney Legend and One of Walt's Nine Old Men
March 4th, 1914 ~ July 8th, 2002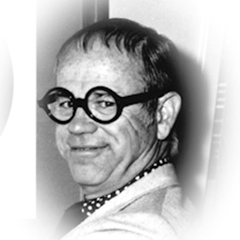 Ward Kimball grew up loving trains. The story is told the first recognizable thing Ward drew was a steam locomotive. This love of trains would become a huge part of Ward Kimball's life and effect Walt Disney's life as well. It be a huge part of what made Disneyland. Ward had a full size working train in his back yard. He and fellow animator, Ollie Johnston got Walt Disney started with his love affair of small gage trains that inspired the Disneyland Railroad.
After High School Ward wanted to be a magazine illustrator and enrolled at the Santa Barbara School of Art in California. There are two versions of the story of what happened next. One version says after seeing Disney's "Three Little Pigs" he decided to try for a job with Disney. The other version of the story says that his instructor at Art School was so impressed with his work he pushed Ward into submitting his portfolio to Disney. Either way he started working at Disney in 1934 as an In-Betweener. By 1938 he assisted Les Clark in redesigning Mickey Mouse.
"I worked the first two weeks for nothing and then got $15 a week," Kimball said in a 1978 interview. "There was no pay for overtime and no air conditioning. We stripped to the waist in the summer and, if a guy was taking himself too seriously, we'd stick a flutter pad under his seat so he'd make a rude noise when he sat down."
Ward was a brilliant draftsman, he enjoyed working on the humorous comic characters rather than more human designs. His wacky and offbeat sense of humor could come out with the more comic characters.
Kimble was known to be the top prankster in the studio. In a studio full of pranksters he held a special place. Once he got to the studio early. He took pants and filled the legs with paper and placed them in every stall in the restroom. It took hours before someone figured out that a prank had been played.
Ward Kimble said this about his youth and working for Disney,
"We thought we were always going to be 21 years old. We thought we would always be putting goldfish in the bottled drinking water, balancing cups of water on the light fixtures, changing the labels on cans of sauerkraut juice. We were 21 years old, Walt was 30, leading the pack. Working there was more fun than any job I could ever imagine."
Ward Kimble was one of the Disney Firehouse Five Plus Two, a jazz band made up of Disney Animators. He played trombone in band for twenty-two years. The band started in the early 1940's and at first Walt Disney discouraged it and considered a distraction for his animators. After a few years he saw the benefits and in fact produced at least 13 albums and had them in several TV specials. Kimble is quoted as saying, The music is still available today.
Kimble directed to shorts for Disney that won Academy Awards.